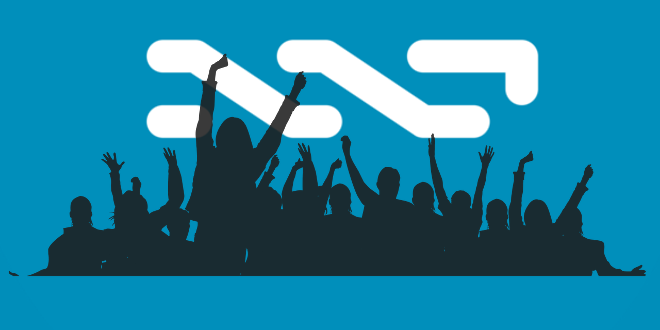 Hi guys! Welcome to yet another high-ROI ICO review. We are going to review Nxt ICO, which was successfully held between 28/9/2013 and 18/11/2013. We will start with a brief overview of the ICO and then proceed to its features, MVP, price analysis, calendar and verdict.
Overview.
Nxt is an advanced blockchain platform which builds on and improves the basic functionality of pioneering cryptocurrencies such as Bitcoin. The first generation of cryptocurrencies pioneered the concept of using a blockchain to keep a secure, trustworthy, and stable, yet completely decentralized and open record of transactions. Initially, blockchain technology was primarily used to track the transaction and creation of cryptocurrencies. But, the creators of Nxt saw the potential to use blockchain technology for something much more by adding multiple core-level features.
Nxt gives project developers and individuals a powerful toolkit, combined with an easy to use API system, thus allowing anyone to launch their own coin on top of the Nxt platform, secured by Nxt so the techy side of running a coin is taken care of. 10% of all created tokens will be distributed to NXT accounts holders.
NXT is the digital currency that acts as the fuel for the Nxt ecosystem. In addition to it being used as a transaction fee when transferring NXT from one user to another, it is also used to create assets that can represent things like bonds or ownership of a project, create a decentralized poll on the blockchain, or storing arbitrary data on the blockchain. Of course, it can also be used as an external currency, in the same way that you can spend Bitcoins or dollars to buy goods and services.
Features;
Asset Exchange. The Nxt Asset Exchange is a peer-to-peer exchange built directly into the Nxt software, allowing secure and fast decentralized trading in Nxt Assets. This eliminates the need to transfer assets or to put trust in an outside agency or business, and as Nxt Assets can be used to represent literally anything (from Bitcoin to coffee beans) there are a wide range of potential investments or trades to be made on the Asset Exchange.
Monetary System. The Nxt Monetary System allows you to create and trade user-defined Tokens called Currencies. Currencies are a specific class of Asset which have several extra parameters, such as the ability to back them with the NXT crypto-currency to stabilize their value.
Monetary System currencies can be freely traded both within the Nxt system using the decentralized Exchange Booth feature and outside the Nxt core on external exchanges or projects that support the MS Currency system
The Monetary System allows an individual or project that needs a digital currency to quickly create one 'off the shelf' and then immediately begin using it, taking advantage of the established Nxt blockchain, software and network.
Data Cloud. In addition to keeping a record of Nxt transactions, the blockchain can also be used to store user-defined data. All forms of data can be uploaded to the Nxt blockchain, providing a secure (and, if desired, permanent) method of storing, retrieving and publishing information. Nxt Messaging makes use of this ability to embed data in the blockchain, and the Data Cloud can be seen as an extension of the Messaging system.
One of the most important features of data storage on the blockchain is that the Nxt blockchain is a permanent and immutable record that provides a tamper-proof time stamp. This allows for legal records (such as contracts) to be embedded in the blockchain, with absolute certainty about the time at which they were created.
Voting System. Voting in Nxt is very important: decentralized systems and organizations need to have a means of arriving at a consensus. In addition to allowing the creation of simple polls, for example to gauge public opinion or to elect candidates to a position, Nxt Voting is used as part of the Nxt Account Control system, allowing transactions to be approved or rejected by a group of users. The results from Nxt Voting can be utilized in many ways, depending on the project.
Voting can be restricted to holders of a particular Asset or Currency, allowing polling to be carried out either completely publicly (i.e. all Nxt account holders) or only among a smaller, selected group.
Account Control. Create secure multi-signature accounts with NXT. Account control enhances the security of accounts and ensures that only specific people have access to funds, under specific conditions.
Nxt ICO MVP.
The Ardor Pruning Testnet will be launched in Q2 2018 while Ardor Pruning Mainnet will be launched in Q3 2018
Price analysis.
Nxt probably had a strong ROI because 1,000,000,000 coins were distributed proportionally to amounts contributed during the ICO. BTC equaling to $6K was contributed between 28/9/2013 and 18/11/2013, setting NXT's ICO price at $0.000168.
First high BTC weekly volume in for the NXT - BTC pair was Ƀ 1,022.89 in the week starting on 06 July 2015 and ending on 12 July 2015. This was before the release of a NXT update.
Second highest BTC weekly volume in for the NXT - BTC pair was Ƀ 7,994.27 in the week starting on 11 July 2016 and ending on 17 July 2016. This was prior to the release of the Ardor platform.
The lowest daily close in for the NXT - BTC pair - Ƀ00000513 was recorded on Thursday, 05 January 2017. he highest daily close in for the NXT - BTC pair - Ƀ 0.00005914 was recorded on Thursday, 04 August 2016. This was during BTC's steep rise between October and January 2017. The price of NXT did not rise afterwards during the crash that followed.
The highest daily close in for the NXT - BTC pair - Ƀ0001439 was recorded on Saturday, 23 December 2017. This was following BTC's crush after its December ATH.
The second lowest daily close in for the NXT - BTC pair - Ƀ00001649 was recorded on Wednesday, 07 March 2018. This was during the BTC bear market of 2018.
Calendar.
28 December 2017: 500M IGNIS - the tokens of the first Ardor child chain – were distributed automatically to the NXT holders.
29 December 2017: Bittrex listed the new pair NXT/USDT
01 March 2018: Official Action Coin Airdrop was scheduled to commence on March 1st, 2018.
28 March 2018: LELE Airdrop
24 August 2018: NXT-Ardor-IGNIS Hackathon
Exchanges.
Conclusion.
We don't recommend buying Nxt because we are not sure if it's BTC or alts that will have a bull run.