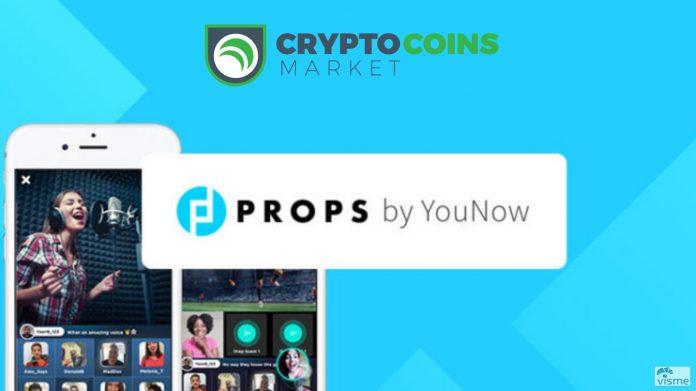 PROPS ICO Key Dates:
Presale Date: 11th December 2017 - 22nd December 2017.
Public sale Date: Q1 2018.
PROPS ICO Overview.
PROPS ICO will kickstart a vibrant community of passionate users within the PROPS Ecosystem, which is a network of digital media applications and platforms that fairly and transparently reward contributors: users, content creators, developers and others.
PROPS token's first adopter will be Rize, an open video platform that connects groundbreaking many-to-many video technology with tokenized virtual gameplay and aligned economic incentives for its participants.
"Livestreaming draws the highest revenue​ ​per​ ​hour​ ​in​ ​media​ ​consumption,​at​ ​$0.50​ ​per​ ​hour,​China." 
Problems being solved:
A few platforms dominate social, and control digital media distribution. Their strength depends on millions of users creating and sharing content, but only a small fraction of the hundreds of billions in enterprise value that they have amassed flows back to the people that create value for these networks, namely the content creators, curators, publishers and developers building on top of them.
Developers wishing to create new experiences and digital media distribution channels face an uphill battle against overwhelming network effects, economies of scale and restricted growth channels of large monopolistic media networks.
Video applications have to choose between the tradeoffs presented by the current live video approaches: live streaming(You Now, Twitch, Periscope, and Facebook Live), with wide scale and low interactivity, or group video conferencing(Skype, Google Hangouts, ooVoo, and Zoom) with possibilities for interactivity but limited scale.
Solutions.
PROP tokens can enable network contributors to programmatically receive an equitable, proportionate share of the value created by the network they comprise.
The PROPS Ecosystem allows developers to customize use cases both as Rize Spaces experiences (Developer Extensions) and new applications within the PROPS Ecosystem. Developer Extensions provide a rapid deployment infrastructure, while minimizing development costs of bringing to the ecosystem an ever evolving set of experiences. It gives developers immediate access to a user base, with all the complexities of infrastructure, payments, token earnings and community trust and safety management taken care of.
Rize uses a network of low latency group video style media servers that can relay streams to each other to create widely available many-to-many video feeds. The many-to-many setup supports the full spectrum of live video interactions, from a single stream being viewed by millions of users to a few users privately chatting, to stadium size scenarios where any user can interact with any other user, instantaneously, live and in full motion.
"Professional​ ​video​ ​content​ ​contributors​ ​are increasingly​ ​using​ ​mobile​ ​as​ ​a​ ​primary​ ​device​ ​for​ ​content​ ​distribution,​ ​while​ ​more​ ​people​ ​are participating​ ​in​ ​video​ ​activities​ ​every​ ​day"
PROPS ICO Review.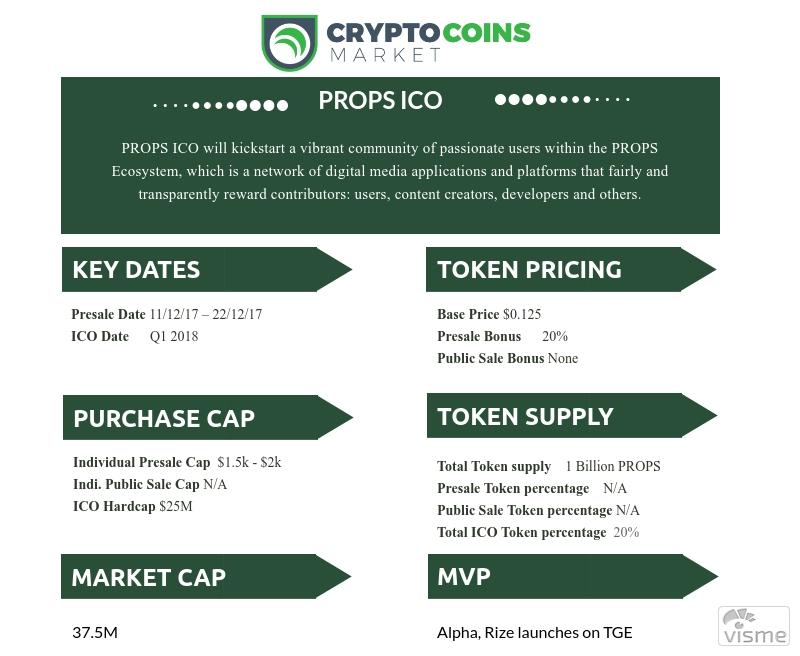 1 Concept.
Industry: Media/Live video
Similar projects: Freedomstreaming, Gifto, Stream, Facebook Live, Skype, Google Hangouts, etc.
How is it different from other projects in the space?
PROPS is a network of digital media applications and platforms.
Through Rife, the YouNow team is introducing many-to-many video technology, which simulates the real world experience of groups of people interacting together. It enables people to actively participate in experiences with video feeds of their own, engage and exchange virtual goods directly with others and interact according to different use cases or logic.
VC Investors: Yes.
Get the overall score of the PROPS ICO as well as other ICOs here
PROPS ICO Structure.
ICO Timeframe: 11th December 2017- Q1 2018
Popularity: Low
Whitelist present: No
Registration required: Yes
KYC required: Only accredited investors on Republic Crypto require registration for KYC and verifying accreditation
Banned entities:  None
Smart contracts already audited: N/A
Exchanges: N/A
Escrow: N/A
Token scarcity:  1Billion PROPS.
Founder/Team/Advisors Token percentage (Should be less than 20-25%): 30%
Securities Token: No
Buyback and burn:
In order to create an evergreen user reward pool, Rize uses revenue from in-app purchases to buy PROPS from the market so as to reward contributors.
Other partners may choose to use other revenue models, where the revenues are used for the same.
Utility token: Yes
Use of fiat:
Since there is a steep learning curve and technical speed bumps in dealing with crypto-tokens for the average consumer, Rize will harness existing mainstream monetization strategies as the initial key driver for token demand.
Similar to YouNow, Rize will introduce a second currency, Coins, to be used to purchase digital goods (and thus send likes). It can be earned through active participation on the platform or purchased with fiat currency via mobile in-app purchase (IAP).
Rize will then take the revenue raised from Coins, and use it to purchase PROPS from the market to add to its reward pool. So mainstream users, through their fiat currency payments, and without any previous knowledge of crypto, can drive demands for PROPS.
Coin staking:
Users hold PROPS to promote content, access exclusive features, and signal status across media apps.
Each Partner application will need to stake a portion of the partner rewards it receives from the Digital Media Foundation as a security deposit against malicious behavior.
Vesting of team member tokens: 3 years
Locking of presale tokens: No
Unsold tokens burnt: N/A
Presale token percentage: N/A
Timeline Bonus: 20%
Whale Bonus: N/A
Presale Hard cap amount: $1.07 million on Republic Crypto
Presale Soft cap amount: N/A
Presale progress: The Republic Crypto $1.07 million cap was hit in just a couple hours.
Minimum amount: $1,500
Individual cap: $2,000 for the first 24 hours.
Public sale token percentage: N/A
Timeline Bonus: N/A
Whale Bonus: N/A
Public sale hard cap amount: N/A
Public sale Soft cap amount: N/A
Public sale Progress: Not started yet
Minimum amount: N/A
Individual cap: N/A
Total ICO Token percentage (Should be 70-80%): 20%
Total ICO Hard cap: $25M
Total ICO Soft cap: N/A
Base ICO Token price: $0.125
ICO Progress: In Presale phase
Market cap (ICO Base Price x circulating supply) (Should be less than $35M): $37.5M
Market cap of projects in same field: N/A
ICO Smart contract Address: https://etherscan.io/token/0xb014415d033c800f50be31c721f1b47a6c8caa6b?a=0x27f123bb8f4717fa6978d0a690f47de9f0c7ec10
MVP.
Any previous activity related to the project:
Since 2011, YouNow has been a pioneer in the live streaming video space and was the first company to popularize live mobile video in the U.S.
In stark contrast to the monetization strategies of most social media companies, YouNow successfully invented a micro transaction-driven, two-sided virtual currency market in which users exchange fiat currency for digital assets in order to boost content, engage in virtual gifting, access unique features, gain status and reward other users. Qualifying YouNow creators, in turn, receive fiat payments for their work in engaging and retaining users.
With Rize, the YouNow team further fuels the flywheel where, beyond creators, all participants are fairly rewarded for their contribution. Contributors are rewarded with tokens that unlock functionality, value and status within the community
The entire PROPS Ecosystem will benefit from YouNow's millions-strong user base and creator community, a new many-to-many video technology and a 40 person team with notable video and virtual economy expertise.
Further, if found valuable, YouNow will integrate PROPS into the existing YouNow app, making it an additional Partner in the ecosystem.
Previous app/product: YouNow
Actual alpha, beta etc. available: The Rize app is currently in alpha, and will launch on the day of the token sale.
Working product integrated with token: No
Partners: Yes
"Today,​ ​YouNow's​ ​social​ ​video​ ​application ​ ​boasts​ ​over​ ​40​ ​million​ ​registered​ ​users."
Blockchain Leverages.
GitHub presence: Absent
Tokens:
PROPS will be distributed by the Digital Media Foundation to PROPS apps and platforms to help boost their Rewards System, and increase the early financial utility to PROPS Ecosystem contributors;
Premium Experiences. PROPS will unlock premium experiences or 'gameplay' advantages. Some features may be exclusive to token holders and require premium access using PROPS.
Status Signaling. Indicates the elevated status of PROPS holders.
Tokens will be used to compensate platform contributors (e.g. Content contributors, curators, developers etc.).
Content Promotion. Users of all types can use PROPS to promote or elevate their own content.
Smart contracts: N/A
Middleman being cut out: N/A
Decentralization:
PROPS holders may promote use cases and content they like and vote on platform-wide rules and guidelines;
Rife's many-to-many architecture is well-suited for future decentralization, because the live streams are relayed by media servers, hence new nodes can more easily be added to the network. As mobile devices and bandwidth improve, consumers too will participate in relaying streams and get rewarded for it.
Transparency: N/A
Scalability: N/A
Speed: N/A
Lower costs: N/A
Storage: N/A
Encryption: N/A
PROPS ICO Team.
Names, pictures and even links to social profiles like LinkedIn and Twitter: Yes
Founders have credentials in the area they are venturing into: Yes
Members who have already completed successful projects in the field of blockchain: No
CTO experienced in blockchain: No
Get the overall score of the PROPS ICO as well as other ICOs here