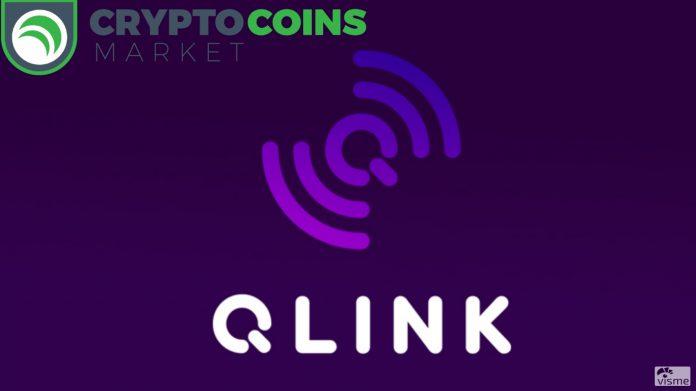 Qlink ICO Key Dates:
Presale Date: 22th November 2017.
Public sale Date: 20th December 2017.
Qlink ICO Overview.
Qlink ICO will fund the development of a decentralized mobile network, which will extend network coverage, reduce the cost of telecom infrastructures, and reward users for sharing  unused network assets:
The Qlink Gateway connects Qlink users with global operators, allowing the user direct access to mobile data and the freedom to create customized service packages through the deployment of smart contracts.
Additionally, Qlink aims to launch applications designed to allow peer-to-peer sharing of assets such as Wi-Fi. For example, Anna wants to access her neighbor's Wi-Fi, and agrees to pay a QLC reward to the Wi-Fi owner based on the length of time she is connected. These trading terms will be written into a smart contract and are then executed automatically through the Qlink platform without any manual intervention.
Qlink will also allow users to sell unused SMS to enterprise customers for the purpose of registration codes, one-time dynamic passwords, verification codes, marketing messages and other direct messaging communications.
"In recent years, 

global network operators have spent between USD$10 to $15 billion annually on Billing and Operation Supporting Systems (BOSS)." 

 
Problems being solved:
Centralized Telecom operations (Wi-Fi, 3G / 4G network facilities and mobile communication BOSS solutions (billing and operation supporting system), or NASDAQ listed companies such as Twilio, who provide corporate SMS / voice / data and other cloud based communication services) are faced with these issues:
Difficulty in accurate advert content distribution and billing. Traditional mobile network operating systems are outdated and cannot precisely pinpoint a user's content consumption activities. Therefore, they cannot provide customized content-based service or billing.
Expensive usage based fees.
Centralized Wi-Fi sharing companies often transfer user's Wi-Fi passwords without permission, or even encourage Wi-Fi freeloading activities.
Centralized platforms profit through Wi-Fi key transmission and targeted advertising, but the network sharers do not receive any rewards.
Centralized platforms are unable to accurately or directly charge the user on the amount of data consumed.
Solutions.
Content producers or advertisers can distribute content through the purchase of prepaid mobile data packages with byte by byte accuracy. For example, a movie studio may purchase 100GB of mobile data to distribute a movie trailer to fans, which can then be accessed without the user incurring the cost of the data transfer.
To accommodate the requirements of the mobile network business, the Qlink Chain will adopt a Delegated Proof-of-Stake4 (DPOS) consensus algorithm, which supports high frequency and concurrent transactions with low fees. This allows Qlink users to deploy smart contracts seamlessly between telcos, content producers, loT terminals and enterprises.
Qlink will support the P2P transmission of passwords between Wi-Fi hotspot sharers and Wi-Fi network users, ensuring that Wi-Fi passwords are securely transferred from one party to another.
Wi-Fi owners have the option to incorporate advertising or content distribution as another way to monetize their connection.
If sharing of Wi-Fi requires QLC, a smart contract will be transferring a certain number of QLC tokens to Wi-Fi sharer, determined by the Wi-Fi sharer's settings. In this instance, the contract will start billing from the moment the users connect to the Wi-Fi hotspot, and cease when the users disconnect.
Qlink ICO Review.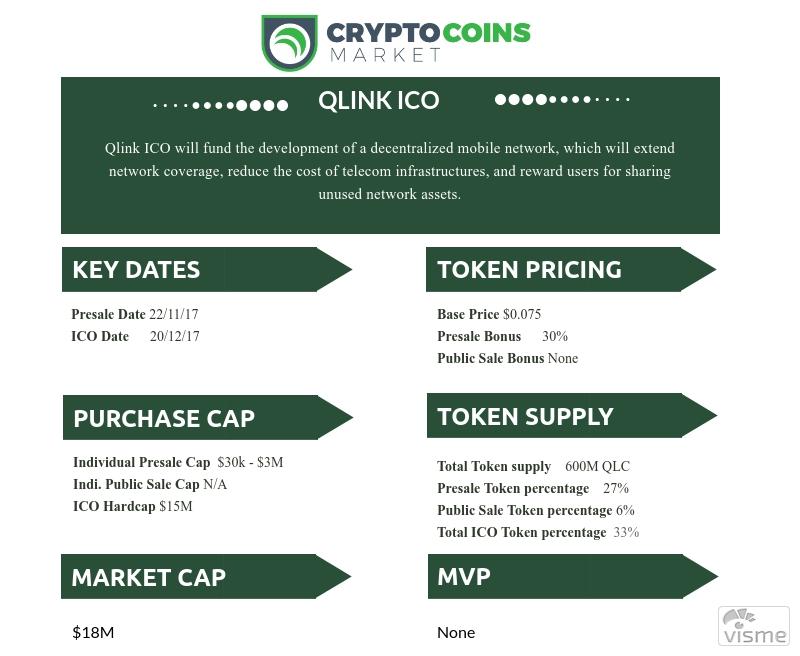 Concept.
Industry: Mobile Data, Advertising, IOT
Similar projects: AirToken, Dent, etc.
How is it different from other projects in the space?
They also plan to introduce Qlink BaseStations to complement the existing networks.
VC Investors: Yes, during presale.
"With the emergence of the Internet of Things (loT), Ericsson has predicted that by 2020, loT devices connected to mobile networks and Wi-Fi will reach 1.5 billion, whilst the total number of loT devices is expected to reach 25 billion."
Qlink ICO Structure.
ICO Timeframe: 22th November 2017-TBA
Popularity: Low
Whitelist present: Yes
Registration required: Yes, there is preregistration for crowdsale.
KYC required: Yes for all participants.
Banned entities:  China, Singapore, and the US.
Smart contracts already audited: N/A
Exchanges: N/A
Escrow: Multi-sig by members of the Qlink Foundation.
Token scarcity:  600M QLC
Founder/Team Token percentage (Should be less than 20-25%): 20%
Securities Token: No
Buyback and burn: No
Utility token: Yes
Use of fiat:
Qlink will also enable the purchase of mobile data in fiat. If the user chooses to buy mobile data with fiat, it will not be executed as a smart contract on the Qlink Chain.
To encourage mobile operators to provide services through Qlink, the Gateway will provide QLC to fiat clearance. When a content provider purchases mobile data through QLC, the Qlink Gateway will provide an option to exchange QLC to fiat currency, based on market rate, and act like a clearance agent for the transaction.
Coin staking: No
Vesting of team member tokens: Released over 3 years.
Locking of presale tokens: Yes, I Month
Unsold tokens burnt:  No, redistributed to token sale investors.
Presale token percentage: 27%
Timeline Bonus: 10%
Whale Bonus: 30%
Presale Hard cap amount: $12M
Presale Soft cap amount: N/A
Presale progress: The presale raised approximately $12M.
Minimum amount: $30k
Individual cap: $3M
Public sale token percentage: 6%
Timeline Bonus: N/A
Whale Bonus: 30% during pre-ICO
Public sale hard cap amount: $3M
Public sale Soft cap amount: N/A
Public sale Progress: N/A
Minimum amount: N/A
Individual cap: N/A
Total ICO Token percentage (Should be 70-80%): 33%
Total ICO Hard cap: $15M
Total ICO Soft cap: N/A
Base ICO Token price: $0.075
ICO Progress: Pre-ICO
Market cap (ICO Price x circulating supply) (Should be less than $35M): $18M
Market cap of projects in same field:
ICO Smart contract Address: N/A
MVP.
Any previous activity related to the project: Youyou Mobile (invested by Alibaba Capital), is a leading mobile data distributor in China and Southeast Asia, and has partnered with 40 telecom operators around the world to provide mobile data services to 6 million customers.
Previous app/product: Youyou mobile
Actual alpha, beta etc. available: None
Working product integrated with token: None
Partners: Yes
Get the overall score of the Qlink ICO as well as other ICOs 

here
Blockchain Leverages.
GitHub presence: Absent
Tokens:
QLC tokens are used to pay for Wi-Fi access, mobile data access, E2P SMS packages, and registration of content on the Qlink Chain.
QRC are used for rewarding users for viewing the sponsored content.
QLC can also be acquired by using the Qlink BaseStation to contribute to the network through mining.
Smart contracts: Yes
Middleman being cut out: N/A
Decentralization:
Qlink will additionally launch the Qlink BaseStation that will provide mobile data and Wi-Fi access, and also features mining capability. The Qlink BaseStation can be used as a home router for Wi-Fi coverage or as a portable device for 4G coverage.
The deployment of Qlink BaseStations will create a decentralized infrastructure that will complement the existing network, whilst providing additional coverage of black spots through solutions such as vehicle fitted base stations. The Qlink BaseStation's mining capability will make use of idle telecom network resources to maintain the distributed ledger and secure the Qlink network.
Transparency: N/A
Scalability: N/A
Speed: Yes
Lower costs: Yes
Storage: N/A
Ledger:
Qlink will allow asset owners to register their rights to access certain telecom assets on the Neo public blockchain. The owners can then share and transfer the usage rights to other users through smart contracts.
The Qlink Chain provides billing and operational support. It contains fingerprints of digital content registered by content creators or IP owners as well data traffic billing information based on users' data usage on the Qlink network.
Encryption: Encrypted P2P distribution of login information ensures stronger security for the public Wi-Fi network.
Qlink ICO Team.
Names, pictures and even links to social profiles like LinkedIn and Twitter: No. There are no LinkedIn links, and some entities have hidden their faces.
Founders have credentials in the area they are venturing into: Yes
Members who have already completed successful projects in the field of blockchain: Yes

CTO experienced in blockchain: No
Get the overall score of the Qlink ICO as well as other ICOs

 here