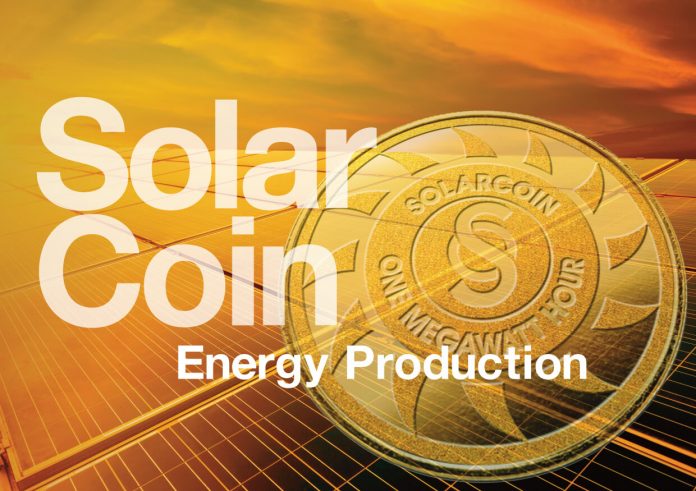 PROJECT OVERVIEW.
Solarcoin a currency that incentivizes generators of clean renewable solar energy. Instead of a digitally "mined" product, this cryptocurrency's proof of work happens in the physical world, and those who have photovoltaic arrays can earn SolarCoin just for generating solar electricity.
It's essentially a global solar rewards program, and is designed to help incentivize more solar electricity production, while also serving as a lower-carbon cryptocurrency than Bitcoin and similar alternative currencies.
BACKGROUND.
With climate change experts forecasting that global warming could possibly increase the earth's temperature two degrees Celsius by mid-century, people are increasingly turning to low-carbon energy sources like solar, wind, and hydropower to mitigate the effects of global warming. According to the International Energy Agency (IEA), solar energy could become the largest source of electricity by 2050 – ahead of other energy sources like fossil fuels, wind, and hydro. Based on figures from the IEA, the solar community hopes to couple another 5,000 GW of solar power to the grid – that's the equivalent of an additional 200 million households using solar power.
"We are the first generation to live global climate change in real-time and to feel it, but we are also the last generation to be able to do something about it," Francois Sonnet, co-founder of Electric Chain, an affiliate of the SolarCoin Foundation, recently told members of the European Parliament in a session on science and technology options (STOA). "The technology is there; the will and the money isn't."
Rather than wait for more money to flow into the solar industry, the SolarCoin Foundation, based in Greenwich, Connecticut, is incentivizing solar production for participating households and businesses, one megawatt-hour at a time – and it's using blockchain technology to do it. Founded in 2014 by a group of solar experts and macro-economists, the SolarCoin Foundation is incentivizing Solar energy production through SolarCoin.
SolarCoin is active in 32 countries, with a network of affiliates and partners to serve different regions: Solar Change is active in South America, EMEA, and the United States; Solcrypto is the claims facilitator active in the Asia-Pacific region; and Electric Chain, registered in Andorra, aims to record solar energy data for the purpose of the betterment of the solar tools as well as monitor human progress and academia.
HOW IT WORKS.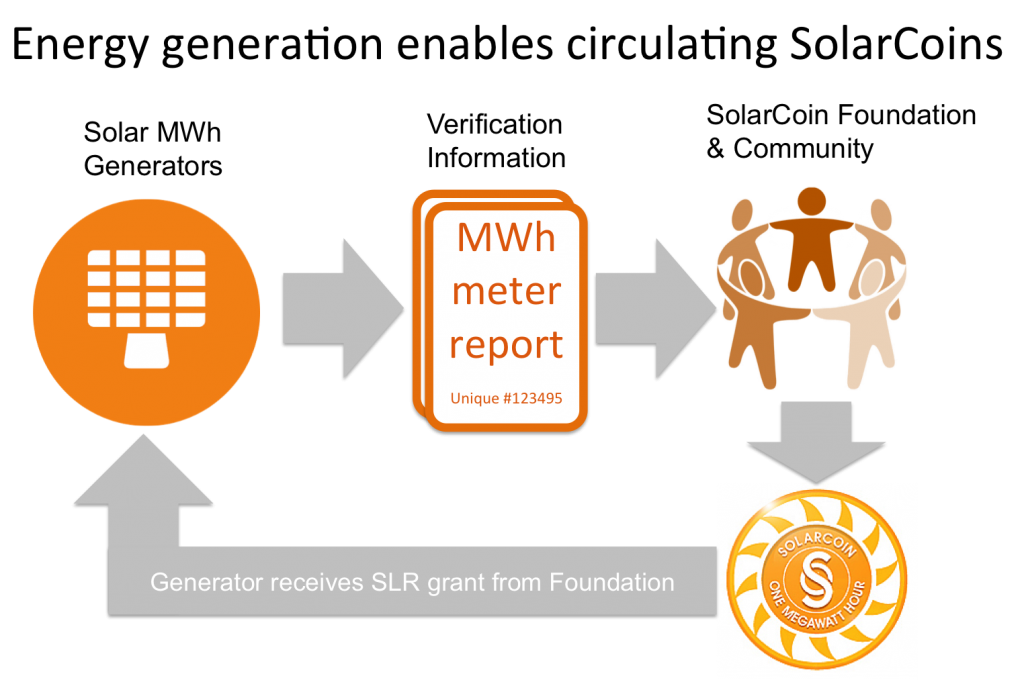 SolarCoin is claimed by people living in homes with solar energy panels or commercial solar electricity producers. The grant mechanism for delivering SolarCoins is based on a simple formula: 1 SolarCoin (§ SLR) per MWh of solar electricity generated, regardless of where in the world the energy is produced.
Any owner of a solar photovoltaic installation may apply and claim his SolarCoins for free. To do so, the solar owner simply registers his solar installation online with data proving the existence and operation of his solar installation, using the form available on the solarcoin.org website. Thereafter coins are distributed once every six months to the owner.
The solar producer can harvest SolarCoins by downloading the digital wallet from the SolarCoin web site; it will embed an API that enables you to claim SolarCoins directly from the blockchain. Individuals could also use a $10 piece of equipment called a Raspberry PI, which is a data logger that gathers information from the solar installation and publishes it to the blockchain.
There are even apps like Smappee that can actualize the SolarCoins mined. Once a solar panel system is registered through the Smappee app, Smappee can record and transfer SolarCoins to a third-party virtual wallet, such as Coinbase.
Smappee can not only actualize and register current SolarCoins mined, but it can also grant and register past solar generation going back for up to five years. Consequently, if a homeowner has been generating power via solar for several years but is now installing a new Smappee monitoring system, Smappee audits past production and enables the system owner to be credited for their historical generation.
HOW ADVANCED IS IT?
Since its launch the project has rewarded more than 10,000 solar installations for their electricity generation (totaling somewhere north of 200 megawatts).
In addition, two solar-focused crowdfunding platforms, Lumo and TheSunExchange, are now incorporating SolarCoin, the Belgian energy monitor company Smappee includes SolarCoin in its features, and in March 2017, the French collaborative energy supplier ekWateur became the first energy company to accept SolarCoin as a means of payment.
SolarChange, the SolarCoin Foundation platform that integrates the SolarCoin Blockchain and incorporates a host of other monitoring and energy management features, was recently chosen to participate in the four month MassChallenge Israel accelerator program, which could help ramp up the solar currency's adoption.