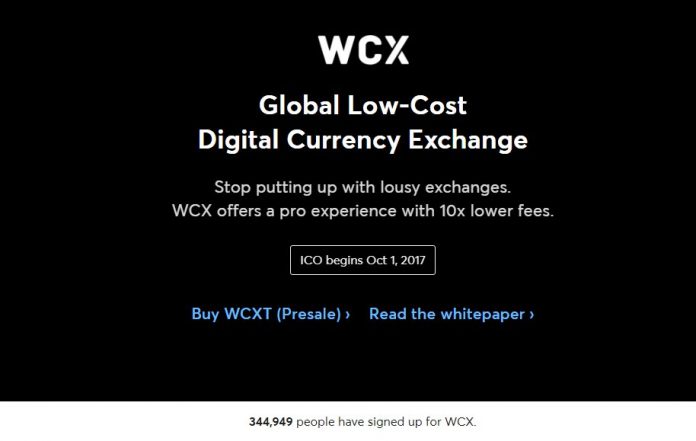 WCX is a centralized crypto trading platform that promises lower fees, awesome customer service, and better user experience. Its ICO begins on Oct 31, 2017.
SUMMARY.
Project name: WCX Exchange.
Token symbol: WCXT.
Website https://ico.wcex.co/?lang=en
Whitepaper: https://wcex.co/whitepaper?lang=en
Hidden cap: The WCX ICO will have a fixed hidden cap, which is known only to the development team.
Preparing for the ICO: To buy WCXT at the ICO, you'll need either BTC or ETH.
Bonus structure: Up to 40% bonus available for early buyers.
Pre-sale:
Referral: For every friend that joins, you get 50 WCXT + 5% of the WCXT they buy, and they get 15% referral bonus on the WCXT they buy. Here is my personal referral link: https://wcex.co/?ref=H1UMluG Get your unique referral link at co.
ERC20 token: Yes
Token distribution date:
TIMELINE.
Sep 1, 2017: Private Beta Launch. 5,000 people from 30 different countries will be selected for the WCX Beta Program.
Oct 10, 2017: WCX Launch. WCX opens its doors to the public.
Oct 31, 2017: ICO begins.
Jan 2018: Mobile Apps.
Mar 2018: Margin Trading.
Q2 2018: Fiat Integration.
Q3 2018: Wallet Decentralization.
PROJECT OVERVIEW.
WCX is a centralized crypto exchange and trading platform that promises to deliver considerably lower fees, awesome customer service, and radically better user experience. It plans to launch on 10.10.17.
BACKGROUND.
Digital currencies are changing the way people all over the world live, spend, make, and raise money. Trading is the fastest-growing market within the digital currency industry as a whole, with retail traders and institutions entering in droves.
Daily cryptocurrency trading volume has averaged 3.8 Billion (USD equivalent) over the past few months. While growing rapidly, it still pales in comparison to trading activity recorded in traditional markets such as NASDAQ (100 Billion) and FOREX (5 Trillion). Digital currency trading volume could grow 1,000x over the next two decades.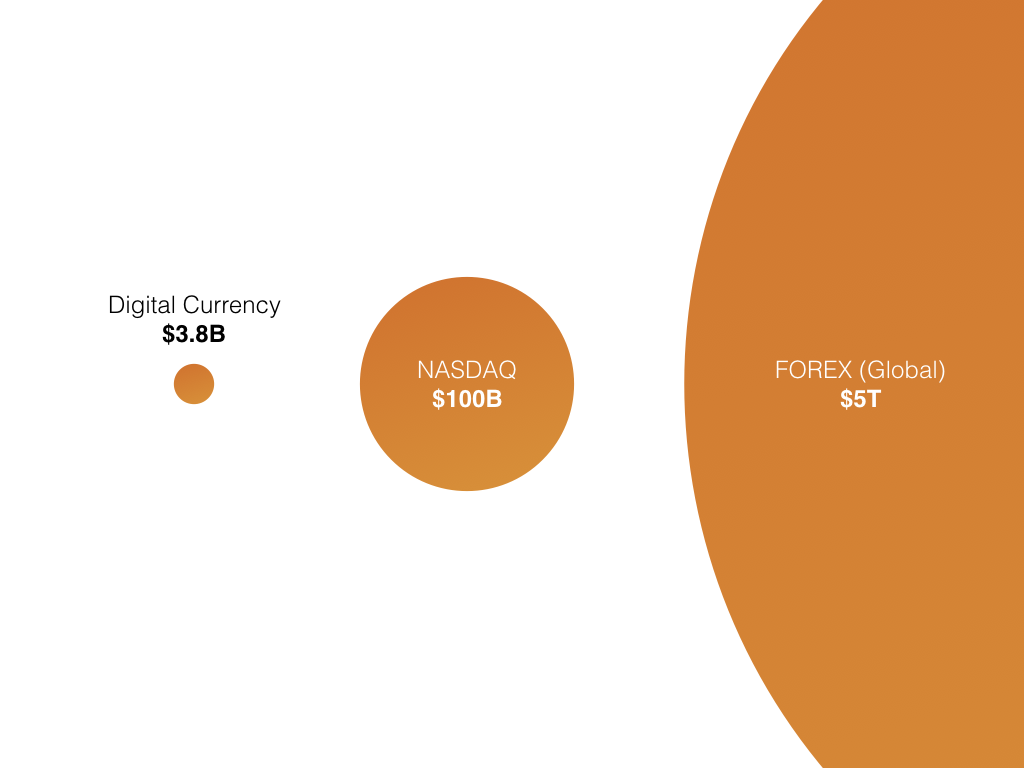 However, existing exchanges are costly and inefficient. And they're not built to cater to a global audience. Complaints from customers including trading execution lag, long delays in dealing with customer support, and loss of funds are rampant. Value to the customer is low and existing platforms are being used for lack of good alternatives.
There's considerable demand for global, compliant, and professionally-built exchanges that can move the industry forward in terms of performance, stability, and low costs. Enter WCX with its compelling value proposition: Tiny Fees + Superior User Experience + Incredible performance.
FEATURES.
Tiny fees for everyone.
WCX offers an enviable cost advantage. Just 0.1% net per transaction, and if you're a market maker (a trader who places limit orders on the book), you're paid, instead of charged, when your orders are filled. WCX fees are 4x lower than industry average and up to 10x lower than some existing exchanges. The net fee for Bittrex for example is 0.5% per trade.
All deposits and withdrawals are free of charge. Remeber, as in any other cases, a network fee may be included with any transfer of digital assets.
Tradable assets.
These cryptocurrencies can be traded at WCX: Bitcoin (BTC), Ethereum (ETH), Ripple (XRP), Litecoin (LTC), Monero (XMR), DASH, ETC and Tether (USDT). The selection is a bit small, but the company is going to add more products in second quarter 2018. You can influence the content of coins and markets pairs by voting on a dedicated form.
In the initial period, WCX does not deal with banks and does not support U.S. Dollar and Euro. The action plan indicates the approximate date when the fiat currency will appear – integration will take place in the second quarter of 2018.
Superior user experience.
WCX puts everything you need to trade inside one simple and intuitive dashboard. WCX's trading dashboard is engineered for stability and filled with all-new technologies that take power and performance to a whole new level – all while feeling instantly familiar.
The interface is fast, fluid, and easy-to-use, designed to work across devices with remarkable fidelity. It makes trading on WCX a breeze. They are going to come up with mobile apps in January 2018.
Highly-performant charts that cater to both beginner and advanced traders can be customized with over 300 indicators.
Trading Engine.
WCX are calling their trading engine "The Juggernaut". It was built by Wall Street veterans and field tested for three years, relaying over one million transactions per second without hiccups.
Existing digital currency exchanges can sustain up to 50K transactions per second. At 1 million per second, WCX is an entirely different creature, balancing flexibility and power at lightning speed.
WCX's trading engine supports more than your average order types. Easily submit market, limit, stop, trailing stop, and block orders that work exactly as you expect – with unmatched execution speed. It's built on the same technology that drives the largest stock exchanges in the world. So whether you're a pro who's been trading for years or someone who's just getting started, you'll soon be able to trade digital currencies at maximum velocity with minimal lag.
Robust, simple, powerful API.
Trade programmatically by connecting directly to WCX through REST, WebSocket, or FIX for high frequency traders. Get all the data you want and need to run your trading programs, at your fingertips.
Security.
Security and privacy are fundamental to the design of WCX. The platform is built to put your privacy first, and security runs through the entire system: 2-factor authentication, top-notch encryption, transport security, and more.
WCX uses a variety of methods and multiple layers of security to ensure the safety of the digital currency wallets, network, and servers, as well as our software and web applications. 98% of customer funds are kept in cold storage at all times, out of reach of attackers.
Global.
Digital currency demands a borderless world. Many exchanges have geographical restrictions in where their customers can trade. As such, they do not cater to the worldwide audience.
WCX wants everyone to experience the power of WCX. That's why they are focused on opening WCX to people around the world. From their base in Hong Kong, WCX will be accessible to over 190 countries and in 20 different languages. No other cryptocurrency exchange can boast such a scale of support for the translation. People from all over the world join to help and add your own language.
You can start trading wherever you are in the world – with no ID verification required. WCX operates entirely with digital currency and does not deal with banks.
Customer Support.
The customer support team is distributed and available around the clock to answer your questions and concerns, even in times of high demand. On-site step-by-step guides help you get set up and take you through some of WCX's great features. And a comprehensive and searchable help center is available in dozens of languages to help you find answers quickly and effortlessly.
Team.
At its core, WCX is a software company powered by technology at every layer. The team combines veterans from Silicon Valley and Wall Street with decades of experience in consumer software products and financial markets trading.
Business Model.
The WCX business model is simple. WCX takes a cut (0.1%) on trades executed on the platform. More happy customers lead to higher trading volume, which leads to higher revenue.
Their first milestone is 1 Billion (USD equivalent) daily trading volume within 24 months from launch. You must be thinking $1B daily volume is a lot but it is not for a crypto exchange. Bittrex (a digital currency exchange) has a daily volume of $0.6B right now. And this is just the start!
Their second milestone is 3 Billion (USD equivalent) daily trading volume within 5 years.
HOW ADVANCED IS THE PROJECT?
By the time the ICO begins, WCX will have a fully functional product, so you'll know exactly what to expect before deciding whether or not to participate in the token sale.
WXCT.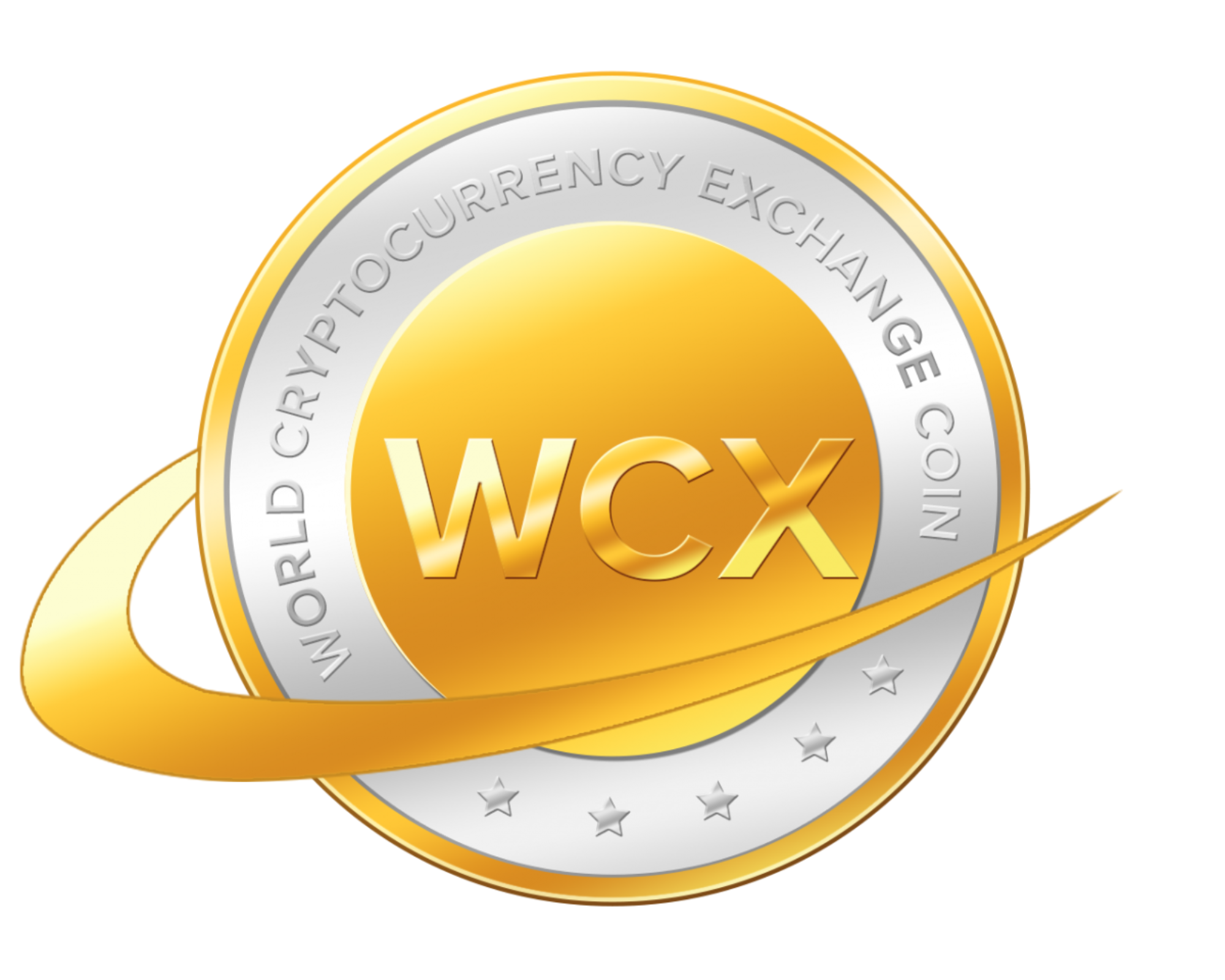 WCXT are ERC20 tokens issued by WCX. As a holder of WCXT, you're entitled to a portion of WCX's revenue. 20% of all revenue generated by WCX is automatically paid out to token holders, in amounts based on each holder's share of the total amount of tokens.
As an exchange, WCX collects fees in many digital currencies – which mean that WCXT holders are paid in many different digital currencies. Holding WCXT is hence equivalent to holding a passive income portfolio of diverse digital currencies.
Payments will be made on a monthly basis. To receive payment, you can either keep your WCXT in your WCX wallet on the exchange or in an ERC20 compatible address that you securely link to your WCX wallet.
Your monthly payment equals 20% of the fee revenue made by WCX over the past 30 days, multiplied by the amount of WCXT you own at the time of payment, divided by the total amount of WCXT. Payment dates for each year will be available in advance on the WCX site.
Monthly Payment = (20% x WCX Last Month Revenue x Tokens You Own) / Total Tokens.
If you have 1000 WCXT and suppose WCX AVERAGE DAILY VOLUME IS 1B USD, your estimated monthly payout based on the amount 1000WCXT= 6$ Every Month, and if WCX AVERAGE DAILY VOLUME IS High more than 1B USD your estimated monthly payout is going high also.
Freebies.
For a limited time, you can earn WCX tokens for free by doing any of the following:
Signing up at: https://wcex.co/?ref=H1UMluG
Referring people to wcex.co using your unique link (find it on the site after you sign up).
Following WCX on Twitter (@wcxofficial).
Voting on which assets you'd like to trade on WCX.
Publishing high quality material about WCX on your blog, website, Youtube channel, or email list. All languages accepted.
Token presale.
If you're looking to buy 250,000 WCXT or more, you can acquire them before the ICO begins at a 15% discount. (Discounted price: 10 WCXT = 0.85 USD).
The funds you use to buy WCXT are held in escrow until two conditions are met: 1) the WCX exchange launches in October 2017 as described, and 2) WCXT are issued during the ICO starting on October 31, 2017. If either of these conditions are not met, your funds are refunded.
ICO.
During the ICO (Initial Coin Offering), you'll be able to buy WCX Tokens with BTC or ETH. 10 WCX = 1 USD at ICO.
Token distribution and fund raising.
8% of tokens are reserved for the team and advisors; 5% are reserved for pre-ICO marketing and bounties; and 87% are reserved for the token sale itself (including pre-ICO bulk buyers).
All unsold tokens will be destroyed. The remaining supply will become the total supply of WCXT, in aggregate paying out 20% of WCX's fee revenue. The ICO is the only time WCXT will be issued and offered to the public.
Use of funds.
Funds raised at the ICO will be used for customer acquisition, research and development, and hiring the best and brightest in software development, security, marketing, compliance, and customer support.
PROS.
Digital currency exchange is a proven business model that is bound to yield profits right from the word go.
If you're a maker on the exchange, you get paid not charged. The first exchange in the world to implement this beautiful concept.
Offers low fees and anonymous trading.
The ICO is the only time WXC tokens will be issued and offered to the public.
Token holders earn a passive income as 20% of all revenue will be distributed amongst token holders.
Operational in 177 countries. At the stage of preparation, several hundred thousand people registered on the site, which makes it possible to assume that the exchange will take a significant position.
The WCX Team comes from Apple, IBM, Deutsche Bank, and has a lot of experience building scalable services.
CONS.
Although decentralizing user wallets is on their roadmap, WCX is not a decentralized exchange hence no transparency.
No fiat currency.
Very little thought given into the development road map (i.e. what the intended purpose of the coin)
The $10 value claim for the token is very optimistic considering the coin is not even released yet.
The final product not ready The team will launch its beta test in September. It is not certain if this will be accessible to all. Without a final product, it may be difficult for you to spend your cryptocoins.
Lack of details on the team. Besides the line about having experienced Silicon Valley and Wall Street team members, there is no visibility on the team behind this exchange.
Hidden market cap. This sometimes can be bad, as whales can end up buying most of the tokens and then playing the market.
CONCLUSION.
There is a large potential for cryptocurrency exchanges in the market. However, it needs the exchange to deliver on what it promises. Making trades easier and cheaper for the customer. Can the WCX exchange deliver on its words?