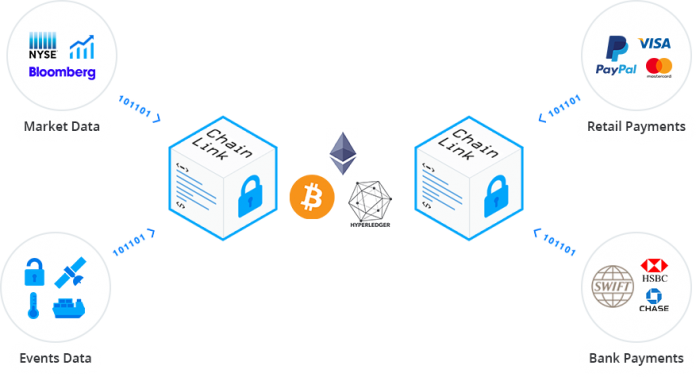 Summary.
Project name: ChainLink
Token symbol: LINK
Token Sale Start Date: 19 Sep 2017
Token Sale End Date: 19 Oct 2017
Where – The ICO will take place on https://smartcontract.com/link
Hard cap: US$32 million (ICO contributors own 35% of total token supply if hard cap is reached)
Soft Cap: No soft cap
Conversion rate: Total of 1 billion LINK will be created
Maximum market cap at ICO on a fully diluted basis: US$91 million if hard cap is reached
Bonus structure: 20% bonus during presale
Pre-sale / white list available: Presale is over
ERC20 token: Yes
Bounty Program: No
Token distribution date: Immediately after the end of crowdsale
Total Tokens in Circulation At ICO – 300 Million LINK
Project Overview.
What does the company/project do?
ChainLink is a community-driven and open source approach to securely connecting smart contracts to external data, APIs and many other key off-chain services, marking a key step towards creating useful smart contracts.
With the advent of Ethereum, it became possible to leverage the power of the blockchain to create binding Smart Contracts that execute code if given conditions are satisfied. A secondary problem arose though – it was difficult to feed actionable, high quality data into Smart Contracts with which to execute their functions.
Contemporary API's, while useful as an intermediary layer for web applications, mobile phones, and others, are simply insecure when it enters the realm of blockchain. While an API that gives bad data can be simply remedied and transactions reversed with current systems, this won't be possible with a Smart Contract – if bad data on the price of a stock is given, for example, a Smart Contract could execute the wrong function based on this bad data.
Example: Let's say that two baseball fans want to bet on the outcome of a game between the New York Yankees and the Boston Red Sox. Each fan stakes one bitcoin, and they create a smart contract that will rely on a trusted, machine-readable data source — the ESPN sports wire — to learn who has won the game. At that point, the wagered cryptocurrency will be released to either the Yankees fan or the Red Sox fan.
Let's say the fans, devoted as they are, attend the game and see the Red Sox win five to four. But at ESPN somebody makes a transcription error and reverses those numbers. The error is immediately caught and corrected, but too late for our hapless Red Sox fan; the smart contract has already released the bitcoins to the wrong person.
These errors in data happen all the time. In financial systems, such a foul-up could be disastrous. The ChainLink network  should provide an easy way to match up smart contracts with the information resources they need by creating cryptographically secure data feeds and facilitating inter-operability in between blockchains. The network is designed to empower an emerging business model in which oracles will be paid to provide reliable data sources, just as cryptocurrency miners are.
What are some examples of how a ChainLink can be useful?
Smart Contract Securities need data feeds about market prices and market reference data e.g. Interest rates. They commonly also need to pay into existing bank accounts for many of their users, which can only be done through a ChainLink that connects to the existing banking system.
Smart Contract Insurance needs data feeds about IoT data related to the insurable event in question e.g. was the warehouses magnetic door locked at the time of a breach, was the companies firewall online, did the flight you had insurance on arrive on time, etc… Insurance products also commonly want to pay out in formats that users already want to receive e.g. USD to the end-users bank account.
Trade Finance Smart Contracts commonly need GPS data about shipments, data from supply chain ERP systems, and customs data about the goods being shipped; all of this data needs to be added to the smart contract by a ChainLink. Many trade finance transactions are still currently settled in fiat currency, which they can pay in using a ChainLink.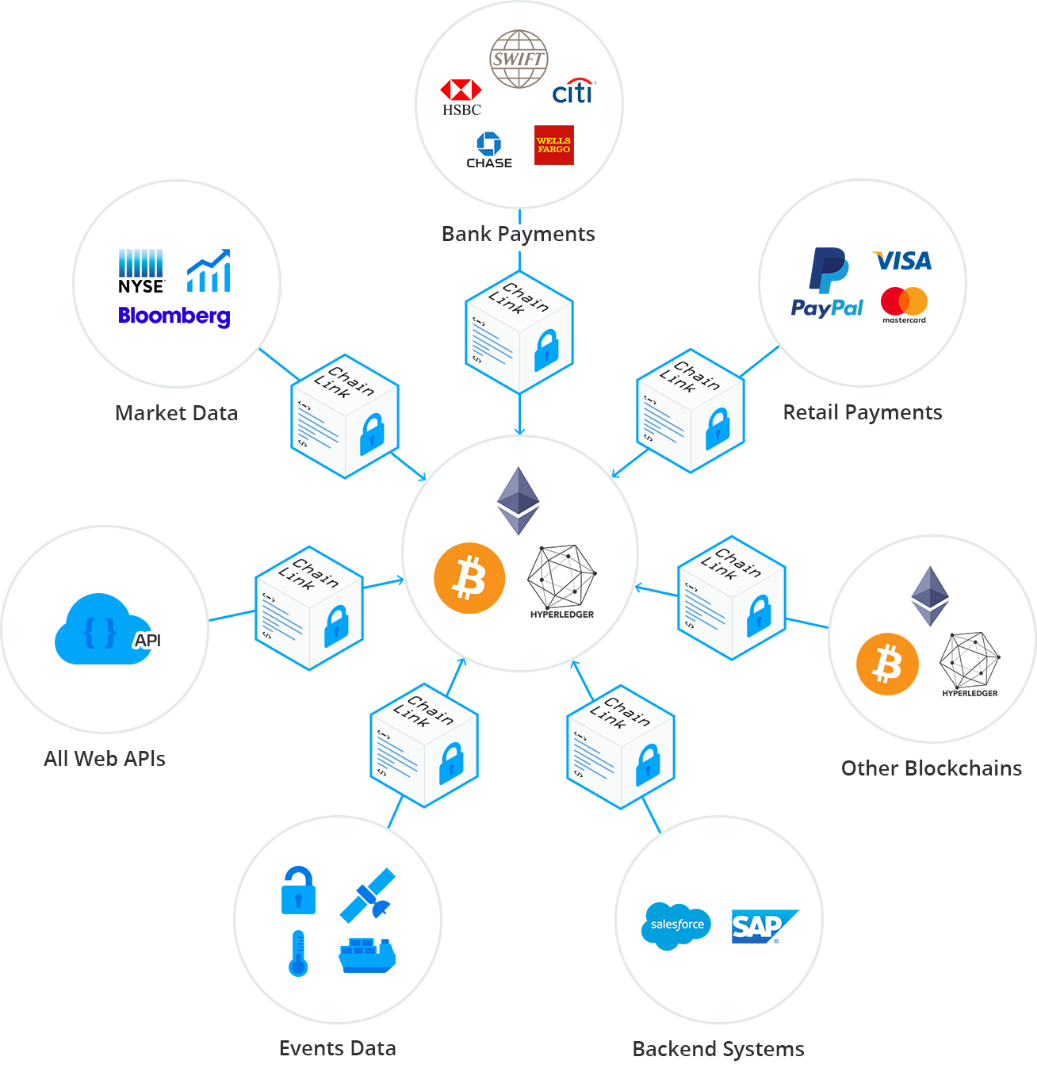 What is the ChainLink Network?
The ChainLink Network is a decentralized network of ChainLink Nodes, which are all selling usage of a specific data feeds, APIs and various off-chain payment capabilities directly to a smart contract.
Any data, payments, e-signature, or other API provider, as well as individual developers, can easily join the network by connecting an API their familiar with. Once the API they'd like to offer to smart contracts is connected to a ChainLink, they become a ChainLink Node Operator, responsible for keeping that API connected to the ChainLink Network and being compensated in LINK for their succesfull fullfilment of on-chain requests.
How will the ChainLink Network help accelerate the creation of useful smart contracts?
If smart contracts are able to recieve external inputs that prove performance and create payment outputs that end users want to recieve e.g. USD bank payments, that will immediately improve their ability to mimic 80%-90% of financial agreements.
The ChainLink network seeks to make a large pool of premade oracles, which make it easy to access all the off-chain resources a contract may need to mimic real world agreements.
With the ChainLink Network, a developer will no longer need to learn an off-chain API, they'll have an on-chain contract that represents the resource their contract needs to interact with off-chain e.g. data feeds, e-signatures, bank payments, etc…
How advanced is the project?
Chainlink already have a white paper ready which can be viewed here https://link.smartcontract.com/whitepaper .
The company has also released a series of Free Public Oracles that provides common data feeds to any Ethereum smart contract. These include US Federal Funds Rate Oracle, Bitcoin to USD Price Oracle, and Ether to USD Price Oracle.
More so, ChainLink v1.0 is already operational and is being used by Interbank messaging platform Swift. https://www.swift.com/  It is being used to allow banks' back-office Swift systems to talk to smart contracts. That is meaningful because, if a smart contract can respond to a Swift message, it can send money in dollars or yen, not just in cryptocurrency.
SmartContract is already having concrete discussions with Swift about phase two of the implementation, and the organizations looks forward to exploring potential opportunities to work together in the future. If all goes well, 11,000 banks will eventually be able to use smart contracts to initiate payments.
What are the tokens used for and how can token holders make money?
The LINK token will give developers the ability to easily pay each ChainLink Node Operator for the unique data, API, and/or off-chain payment capabilities they provide access to.
Token Distribution.
Total Token Supply of 1,000,000,000 LINK to be distributed:
35% going to Node Operators to Incentivize the Ecosystem.
35% will be sold in the Public Token Sale.
30% will go to the Company for Continued Development.

Team.
Steve Ellis. Steve Ellis is a graduate of New York University for computer science. He has worked for 3 years at Pivotal Labs, a subsidiary of Dell Technologies as a software engineer. Some of their clients include Citibank, Dish, Hulu, and Mercedes.
Ari Juels. Ari Juels is currently a Professor of  at Cornell Tech in New York City, and Computer Science faculty member at Cornell University. He currently has over 25 thousand citations on scholar.google.com, proving his experience and reliability. He was the Chief Scientist of RSA, Director of RSA Laboratories, and a Distinguished Engineer at Dell EMC, where he worked until 2013. He received his Ph.D. in computer science from U.C. Berkeley in 1996.
Andrew Miller. Andrew is a well known leader in decentralized consensus research and secure blockchain infrastructure. He's an Associate Professor of Computer Science at the University of Illinois and an advisor to both Zcash and Tezos.
Evan Cheng. Evan is one of the creators of LLVM, which generates the low level machine code running every Apple device, as well as much of Google, Nvidia, and Intel. He is currently Director of Engineering at Facebook.
Hudson Jameson. Hudson is the Ethereum Community Manager, a well known authority on smart contracts, and the Ethereum development roadmap. He's written about why he's supporting our work with the ChainLink Network here.
Jake Brukhman. Jake was previously the CTO at Triton Research, going on to launch CoinFund, one of the leading token focused funds. He's now an advisor to leading token sales like Kik's Kin Token, and the ChainLink Network.
Brian Lio. Brian is the CEO of Smith+Crown, a widely accepted leader in blockchain research. Providing in-depth analysis of both ongoing token sales and the larger evolution of decentralized technology over the past 2 years.
Why invest in it?
The oracle problem is one of the most difficult aspects of Smart Contract and blockchain technology that has yet to be solved. Chain Link's parent company Smartcontractnot only has provable, production ready linking software that is available for use today, but it also stands out as one of the few projects in this space which is attempting to solve this gargantuan problem.
The upside for investors in this kind of project is similar to investing in something like Internet based API's and intermediary connection systems in the 2000's – that is to say, massive. To give more specific numbers, over half a billion dollars were invested last year in 2016 alone to API companies or acquisitions. For a project seeking to fund a max of 32 million dollars, there is a gulf of difference between the current buy-in price to get on the ground floor of this project and its full potential.
The team has been creating secure oracles for Bitcoin and Ethereum for over 3 years, connecting smart contracts on various networks to critical external data feeds as triggers, and many off-chain systems they need to become operational.
Three of the Blockchain industry's most respected figures, former RSA Chief Scientist Ari Juels, decentralized consensus expert Andrew Miller, and Ethereum Community Manager Hudson Jameson are part of its Board of Advisors.
Network effect is present because the ChainLink platform is more useful when it is the go-to source for blockchain data feeds, so that users don't need to go to several sources for different types of data.
SmartContract.com has already acquired industry leaders in financial technology as paying customers for its revolutionary Blockchain middleware technology.
SWIFT, the leading global provider of secure financial messaging services, is working with the company to create its own SWIFT Smart Oracle, which will allow smart contracts on various networks to make payments, send governance instructions, and release collateral with more than 11,000 banks. After completing a successful phase 1 implementation in May, the details of which are set to be announced at the upcoming SIBOS conference, SWIFT has continued to work with SmartContract.com towards a Phase 2 Implementation.
Gartner, one of the world's largest technology research and advisory firms, has selected SmartContract.com as a 2017 Blockchain Applications Cool Vendor, validating the significant business value that CTOs, CIOs, and Lead Architects have seen in ChainLink's secure approach to connecting smart contracts with critical external resources.
In addition, SmartContract.com has partnered with IC3 to launch Town Crier, the only method for generating trusted hardware backed (Intel SGX) oracles on production environment.
The ChainLink team was selected by the World Economic Forum's Tipping Point report as the "Shift in Action" for Smart Contracts, for their work on allowing smart contracts in the Bitcoin network to be automatically triggered by external data.
The tokens will be distributed immediately after the end of crowdsale. Also, a portion (amount unspecified) of the hard cap is already sold in presale.
Conclusion.
Chain Link is poised to be able to solve the oracle problem once and for all. If successful, as the "API of blockchain", Chain Link will herald the beginning of true mainstream adoption, as well as the expected heavy usage of their technology means that this is one investment you don't want to miss out on. Expect big things from Chain Link!