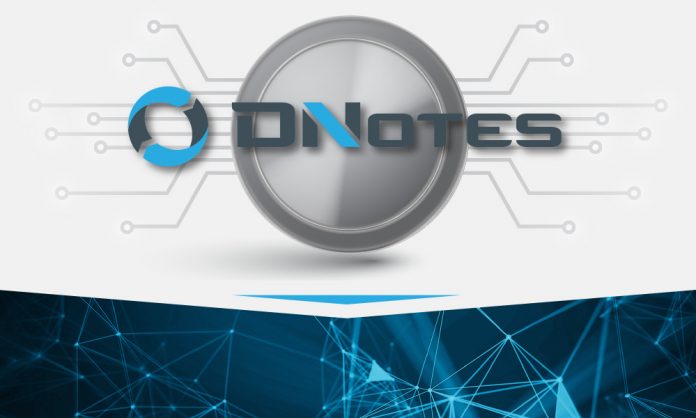 Launched in 2014, DNotes is a Bitcoin alternative digital currency built from the ground up to succeed where Bitcoin has been struggling. It is designed to exploit the strengths of Bitcoin and overcome the baggage that has discouraged Bitcoin's popular mass acceptance.
The vision is to build DNotes as a trusted global digital currency to supplement national fiat currencies in global commerce by simplifying its use so that anybody in the world can participate. In order to minimize industry threats and be in the best position to succeed, DNotes has been created within and alongside its own business ecosystem.
BACKGROUND.
Looking around at the cryptocurrency industry, most altcoins seem to behave in an impractical and idealistic universe of its own. They are trapped in the belief that enhancing the technical aspects of their currency is key, rather than improving the 'usefulness' of the currency as money itself.
Digital currencies are revolutionary because they improve the durability, portability, fungibility, scarcity, and divisibility of money. They are also excellent mediums of exchange, and will make for a great unit of account for mainstream use. Digital currencies remain, however, volatile due to low market liquidity. Until digital currency better acts as a safe store of value, people won't want to hold onto it for fear of devaluation.
Technological advancements that neither improve the characteristics or functions of money should therefore be considered a secondary concern to the creation of a currency with ongoing relevance in the future as anything more than a trading instrument for speculators. DNotes is more focused on bringing digital currency to the mainstream. To do this, it must first meet all of the key functions of money – to be a unit of account, a store of value, and a medium of exchange.
FEATURES.
DNotes Vault.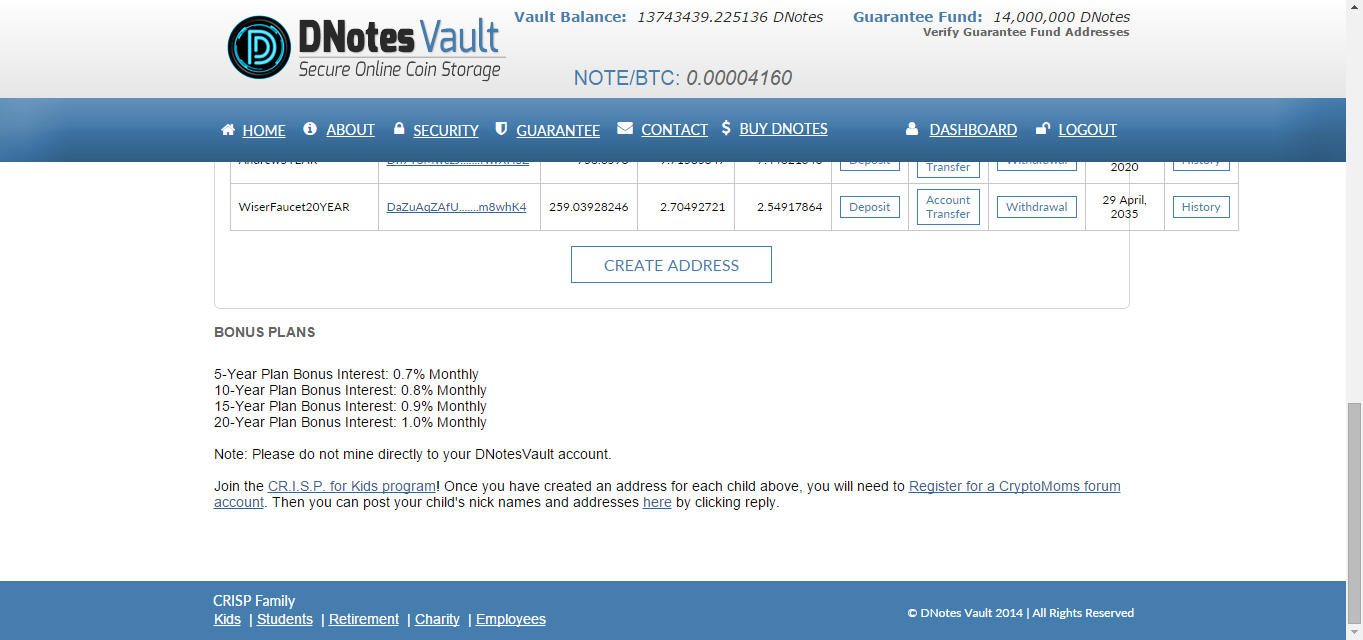 DNotesVault is one of the major steps to positioning the digital currency as money. While it does not sell or trade DNotes, the vault is set up like a bank with comparable convenience and ease of use. It is easier to set up an account at the DNotesVault than setting up a bank account. NOTES can be conveniently sent to an email or a NOTE deposit address. Account holders also have the option of scheduled payments or "timed released" over a user defined period of time with specified amounts.
The Vault is a strategic secure saving alternative to stimulate the long term holding of DNotes. DNotes Vault guarantees 100% of your deposit through a separate fully transparent cold storage account, secured in a different location, with an amount always in excess of the total deposit. The guaranteed funds can be verified at any time via the blockchain. No private keys or wallet passwords are stored within the vault software or anywhere online. DNotes Vault also offers the option of two-factor authentication, and requires email withdrawal confirmation. Withdrawals are processed once every 24 hours as an additional security measure for users to recognize unauthorized account activity.
DNotes Vault will evolve into a fully regulated financial entity in the near future, offering an array of financial services in payment transaction processing, business loans, letter of credit, and cryptocurrency exchange facilities.
CRISP.
DNotes Vault encourages savings, the foundation of economic stability and personal financial health. Their Cryptocurrency Investment Saving Plans (CRISPs) for children, students, employees and retirees are designed to fulfill their mission to make DNotes' ecosystem available for everyone worldwide to participate. The CRISPs reward savers with interest directly from the DNotes blockchain's reward structure on all deposits held at DNotes Vault for 30 days or more.
POS.
DNotes 2.0 will be transitioning from Proof of Work to Proof of Stake. This should allow all stake holders to take part in the staking process, while protecting against system-gaming and centralization. The new blockchain will reward stakeholders monthly with an annual target of approximately 2% on balances held in qualified accounts for 30 days or more to encourage long-term investment and savings. This new strategy is essential for advancing the DNotes core commitment to empowering people with savings options that meet the challenges of tomorrow's new world.
Deferred Staking / Cold Staking.
Deferred staking will allow users to stake multiple offline wallets from a single online wallet, by deferring staking rights to another wallet. This will allow users to participate in staking with confidence that their coins are safe and secure.
C#.
100% conversion to C# will put DNotes in a position of great technological leadership, particularly when it comes to the blockchain and smart contract applications that are currently in great demand. C# is popular in the corporate environment. It is also easier to develop and maintain than the traditional C++ Bitcoin Core source code.
Blockchain Integrated Payment Network.
A blockchain based payment network allowing quick and easy setup of decentralized payment verification without the need to operate your own online wallet.
Integrated Private Company.
Leaderless organizations can be a big hurdle to ongoing development. This has been witnessed in Bitcoin's community in solving the maximum number of transactions its network can handle simultaneously. The potential of chaos and impotence are an inherent weakness of decentralized systems that forego leadership. This risk can be minimized with the presence of a group of developing stakeholders who have sufficient self-interest to help protect and promote the organization.
DNotes is managed as a business but not controlled as a business, since it is not owned as an entity by a single individual or a group of individuals. It is owned, at will, by all of its stakeholders, making this a uniquely new challenge that has not confronted management professionals before. Any stakeholder can change ownership position anytime without notice. A strong community can be abandoned overnight and a strong leader can quit with little prior warning.
DNotes has taken this ownership structure one step further by giving up a 25% stake of the equity in the privately held for-profit company, DNotes Global, Inc. which manages and develops the DNotes business ecosystem.  This means everyone who uses the payment system also becomes a partial owner in DNotes Global. The arrangement provides intrinsic value to the DNotes currency and its use, and provides investors with another valuation tool to judge company growth.
What is DNotes Global, Inc.?
DNotes Global, Inc. was formed provide DNotes' decentralized digital currency with the required infrastructure to navigate the complex legal framework of traditional centralized systems. DNotes Global will play a critical and central role in DNotes' exciting future growth plans, including the addition of a currency exchange, bank, global payment network, and multi-currency cards – as well as mergers, acquisitions, and other business ventures.
Community.
DNotes' leadership has always been very respectful and appreciative of the community's suggestions and contributions. Together the community actively identified and recommended solutions to industry challenges and problems. The best of these ideas were promptly responded to with the creation of community projects.
For instance, one member once highlighted the industry's divide in gender participation – with males outnumbering females ten-to-one in what will be one of the biggest markets for future wealth creation. A few weeks later CryptoMoms was launched as a community to help women get in at the ground level.
TECHNICAL SPECIFICATIONS.
60 Second Blocktime.
Kimoto's Gravity Well.
DNotes (NOTE) OVERVIEW.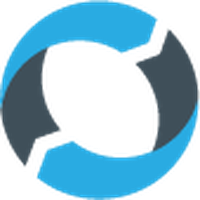 Coincapmarket ranking: 224.
Current coin Value: $0.049735 (-3.27%).
Market Cap: $6,319,899.
24hr volume: $21,644.
Circulating Supply: 127,070,444 NOTE.
DNotes is an open source decentralized digital currency which enables peer to peer transactions anywhere in the world. Dnotes enables you to create transactions through a secure, decentralized peer to peer network where the value is determined by supply and demand, rather than Government or banks.
DNotes are backed by profits from DNotes Global, Inc.
Exchanges.
Wallets.
Mining pools.
FUTURE.
DNotes' guiding principles and high standards will impact its future projects and partnerships that require regulatory approval and compliance. Accordingly, the projects listed for 2018 and beyond describe its planned direction, without specific dates for the launch of any given project:
Full service centralized exchange where DNotes, Bitcoin, and a selection of other digital currencies and fiat currencies will be traded.
DNotes Bank — A bank of the future, with innovative financial services that will include online lending.
Strategic Investment in partner—banks globally to greatly enhance the superiority of DNotes in global commerce.
Payment Network Integration—Deployment and integration of the DNotes payment system into existing payment networks and services.
Multi-currency credit/debit card systems —Designed to conveniently fulfill the need for simplified fiat currency exchange in foreign travel.
Mobile Development — Mobile payment system to facilitate secure mobile transactions utilizing hardware security features paired with biometric identification technology.
NextGen VC —A division of DNotes Global, Inc. with focus on turn-key participation to take selected companies to their next level of success. This may include crowdfunding under the Jobs Act, issuance of a digital asset token, full array of consulting services including many innovative blockchain applications and smart contracts using the DNotes blockchain, and other cutting-edge technologies.
Unified Global Charity — A one-stop, 1 professionally-managed global charity fund to deliver maximum payout to targeted recipients.
IN CLOSING.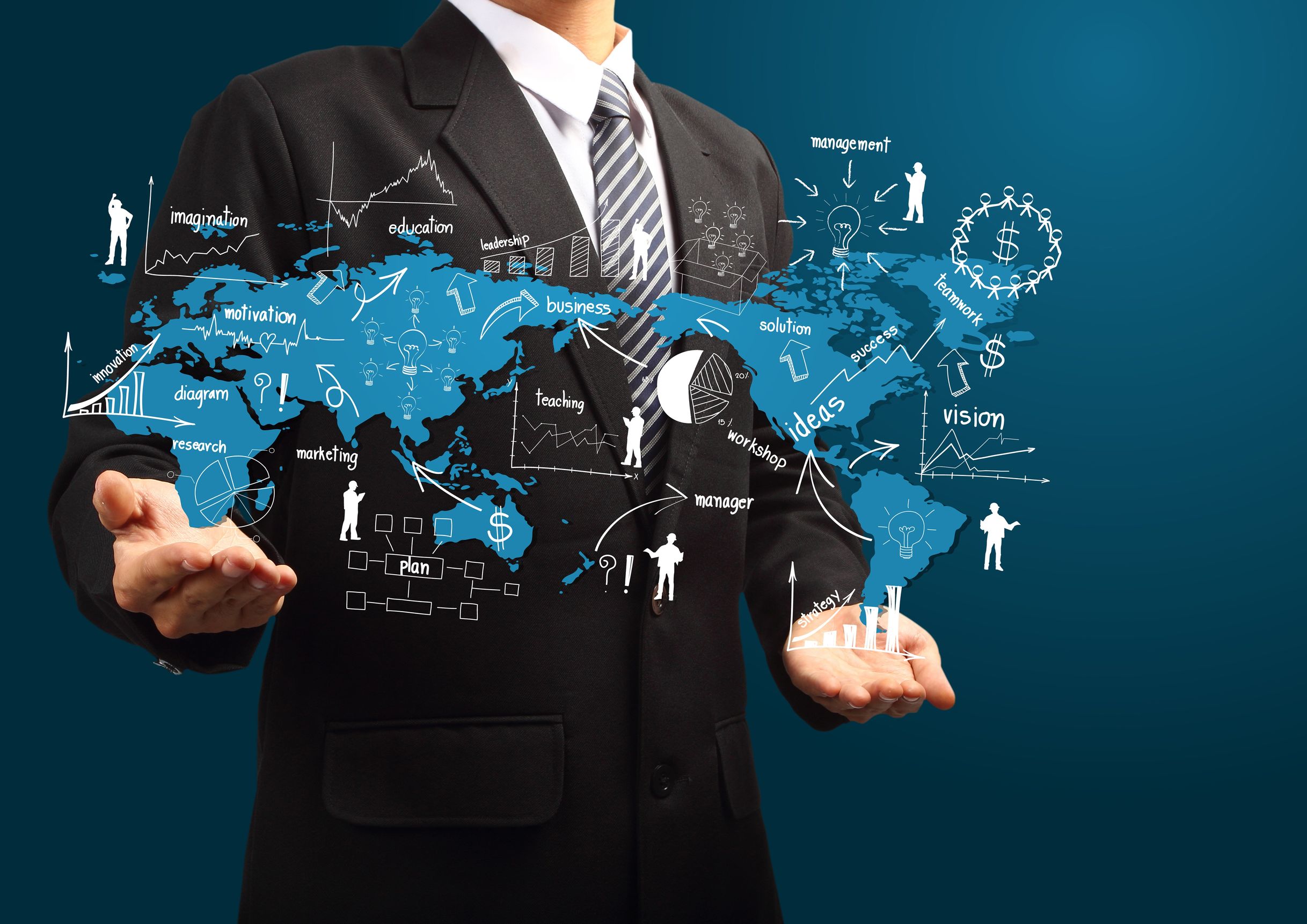 DNotes is built with a clear vision and passionately supported by a community committed to building a new world with better financial inclusion and opportunities for all to advance up the socio-economic ladder. This extends all the way to developing nations, where a low-cost decentralized payment network utilizing mobile phones and DNotes can service the billions of unbanked worldwide in countries where establishment banks are largely only patronized by the local elites.
[currencyprice currency1="NOTE" currency2="usd,eur,btc"]
[currencygraph currency1="NOTE" currency2="usd"]