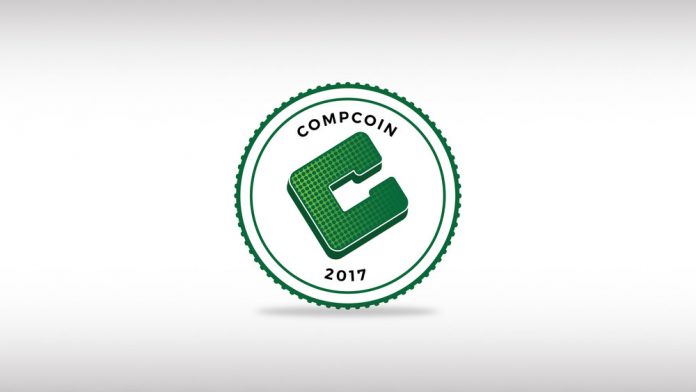 Compcoin (CMP) is a token that advances the blockchain by making artificial intelligence investment tools available to every investor.
Summary.
Project name: Compcoin.
Token symbol: CMP.
Website: https://compcoin.com/
ICO Contribution cap: $2.1M.
TEU Token for sale in ICO: 18% of Total Supply.
Crowdsale date: 14. Jun 2017.
Price at ICO:15 USD.
Current price: 3.58 usd.
Role of Token: Usage token.
PROJECT OVERVIEW.
Compcoin is a new digital token focused on investing and growing capital, instead of spending or other transactional purposes. Investors may buy and hold Compcoin to leverage it as an alternative investment vehicle. However, the primary function of Compcoin is to grant investors access to ART – a proprietary, automated, algorithmic trading platform developed by its parent company, the Fintech Investment Group.
Compcoin grants investors access the world of algorithmic trading in the $5 trillion per day foreign currency market. Previously, such technology had only been available to elite investors, hedge fund managers, large insurers, pension funds and global banks
During its ICO campaign, Compcoin offered 3 million coins (30%) at a price of $15 USD each.
ART PLATFORM.
Compcoin allows access to ART, an artificial intelligence trading robot that trades various financial instruments in an individual's account to generate profit. The concept behind the coin is to have a computer trade your account while you go about your day. This is not your ordinary computer- it is equipped with 70 years of historical data, proprietary trading algorithms, risk management parameters and over 70 years of "human" trading experience. This system eliminates human error, and invests only when the probability of a "win" is considerably in the investor's favor.
The technology  automatically executes USD/EUR trades on behalf of Compcoin owners -obviating the need for them to closely monitor this currency pair 24-hours a day to react to market-moving news or trends. The technology relies exclusively on historical data and predictive analytics, and is not prone to human emotions or errors made by both novice and experienced traders alike.
HOW IT WORKS.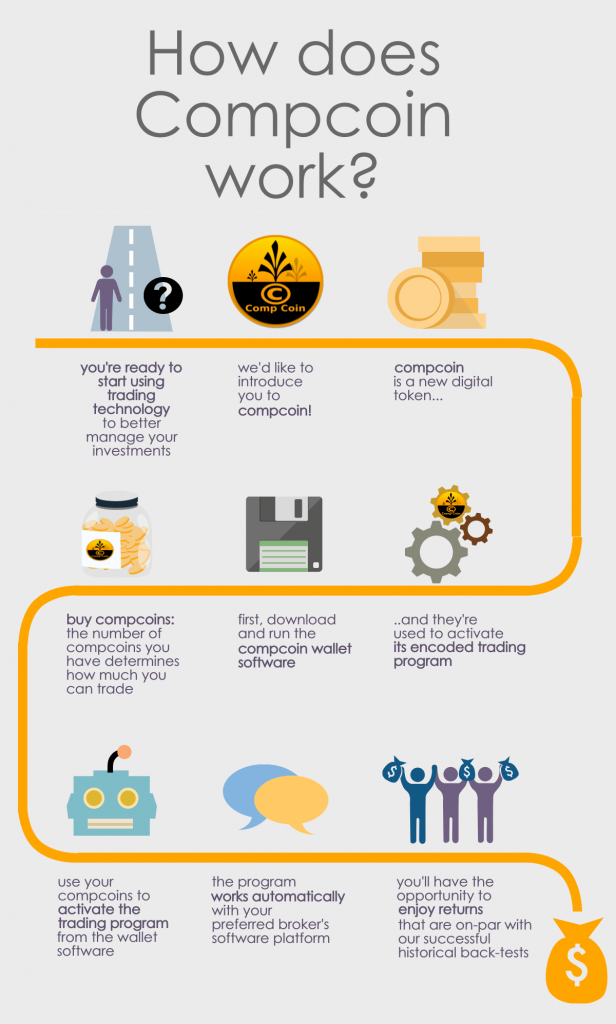 ART is programmed to run automatically within your personal trading account and is easily set up using Compcoin as the bridge between it and the investor. The ART Network controls your funded trading account,  and makes all the trades for you by utilizing predictive artificial intelligence and adhering to advanced statistical methods
ART is activated by transferring a minimum of 5 Compcoins from your digital wallet. To send the coins to ART, you need to get in touch with the Compcoin team who will assign you a personal ART address. After an address is assigned, you can then send coins to the personalized ART address and your separately funded trading account is linked to ART you can begin trading on the ART network. The licensed financial advisors can help you pick which combination of algorithms is best for your personal risk preferences.
Investors can log into their trading account and see results live at any second. If you want the ART Network to stop trading on your behalf you can stop at any time with no consequences. At the end of each quarter, the ART Network sends back the invested Compcoins to their owners minus a small fee of CMP depending on the algorithm. Fees are profit based and vary between algorithms and your chosen financial advisor.
The trading team is working on additional algorithms including futures, commodities and crypto-currencies.
FEATURES.
8 years of in-house trading tests.
In eight years of controlled lab testing, Compcoin delivered an average 10%* quarterly return on investment (ROI) - much higher than the ROI of most retail and institutional Forex traders.
NOTE: Preliminary performance results were primarily achieved in a controlled environment using historical trading data measured against actual Forex trading results. It is important to note that past results are not an indicator of future performance.
Earnings Capacity.
Compcoin allows its users to employ up to 500/1 leverage in management power for their benefit. This means that for every Compcoin deposited with ART, the investor can have up to $500 USD under management in a separately held Forex account.  Let's see how this works with the following example-
A deposit of 10 coins would allow management of up to $5000 USD:
If the account generated a 5% return, that would be $250, or $25 per coin in the above example ($250/10 = $25).
This would mean that each coin helps unlock up to $25 per coin.
While these are absolutely not securities, one could make the case that such a coin could be very valuable.
The ability for Compcoin to store value, and potentially increase in value, off-sets any traditional account management fees that retail Forex traders would have normally paid to execute trades. Instead of paying fees to a third party, Compcoin investors can use those dollars to purchase a digital asset that can be traded or sold for a potential profit at a later date.
Compcoin (CMP).
Compcoin allows its holders access to the proprietary trading system (ART). The value of that access will be determined by the performance of ART, and there will NEVER be dividends nor payments made to coin holders.
Compcoin has a limited "shelf life". Each time Compcoin is used to access ART, it is fractionally diminished. The coins will be able to access ART for decades, but not forever.
There are NO voting rights for Compcoin holders. There is NO "pooled interest" between holders of the coin. Each holder has the ability to access or not access ART for trading their SEPARATELY held accounts. The autonomy of each coin holder allows for them to act in their best interest, and their results are dependent upon their own actions.
Value.
Compcoin has an extrinsic value that is based upon the quarterly cash returns of its investment technology. Compcoin's value could rise or fall with the quarterly returns the investors ever receive. As the program succeeds, the demand for coins should grow. You can check the currency price of Compcoin on coinmarketcap.com or any exchange Compcoin is currently being traded on.
Wallets.
Exchanges.
FUTURE DEVELOPMENTS.
A few days ago, Compcoin announced that they have upgraded its blockchain to correct a mining issue that was devaluing the coin; professional miners were mining the coin and instantly selling the coins into the market drastically affecting the price of the coin. They claim to have corrected the issue, and will allow the mining to continue in a fair and stable fashion for years to come.