DMD Diamond is a digital currency that that allows people to send money anywhere in the world instantly, securely and at near zero cost. Its conceptual goal is to become an ultra-scarce non-government controlled storage of wealth with software facilities that can increase that wealth over time. It is very scarce (only 4.38 million DMD will ever be produced), has a thriving community as well as a built-in mechanism for placing consistent buying pressure on the trading platform. All these reasons make Diamond an excellent coin to invest in.
FEATURES.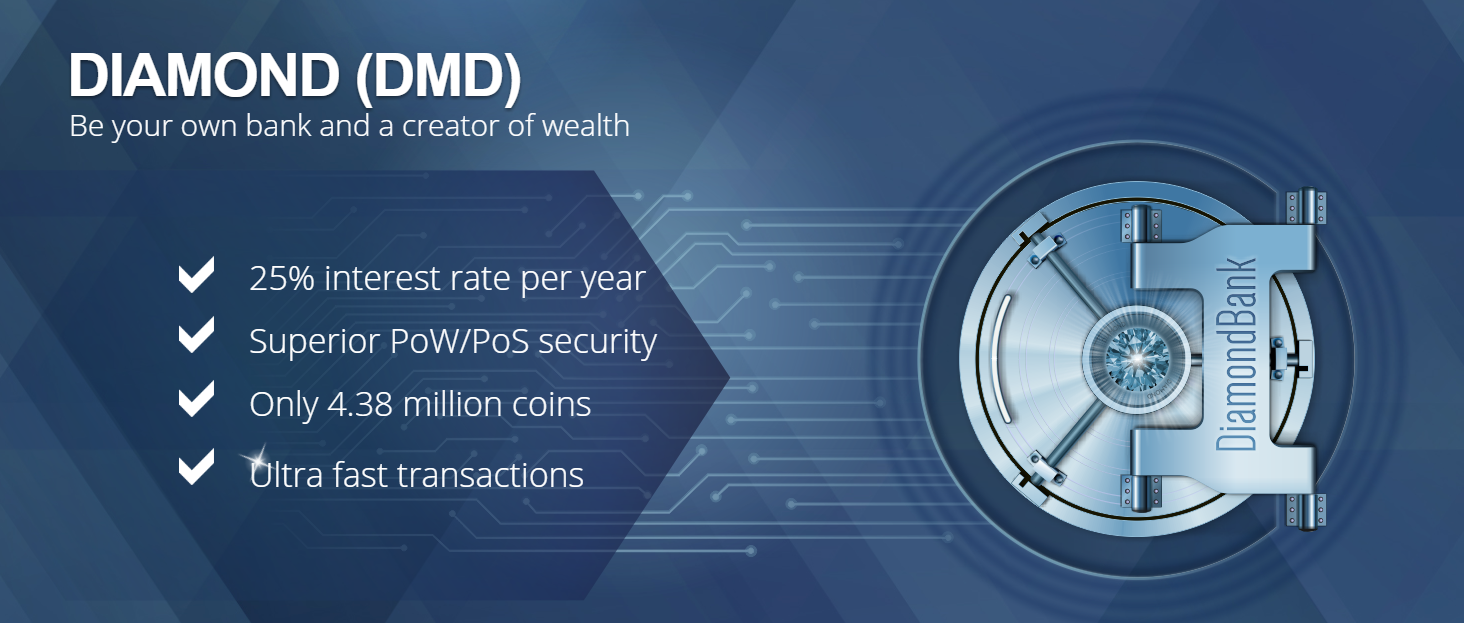 Proof-of-Stake.
Proof-of-Stake just like Proof-of-Work is a mechanism that allows the network to confirm transactions and prevent fraud. However, it does not require any resource intensive calculations to be performed. The only reqirement is to have some DMD coins in your ballance and keep your Diamond Wallet connected to the network.
Periodically, your ballance will be increasing as new coins are awarded to you for your support of the Diamond Network. Interest rate depends on a variety of factors, however, with optimal participation in support of the Diamond Network one can expect over 25% annual return on their investment.
In order to control DMD inflation and bring it in line with the annual rate of physical gold extraction, minting rewards will be successively reduced over the coming decades. Minting also withdraws the DMD from the supply chain, contributing to price stability.
Diamond Masternodes.
DMD Masternodes are computers that are constantly connected to the Diamond Network and perform certain tasks allowing DMD to achieve faster and more private transactions. For their dedicated service Diamond Masternodes are rewarded with 65% of network rewards​, which is distributed to the Master Nodes one at a time on a random basis.
There are numerous benefits to being in the Diamond Masternode program such as providing network stability and efficiency but also it reduces the volatility of the currency by withdrawing large amounts of coins from the open market which in turn aids price appreciation.
There are two types of services Diamond Masternodes do:
Quick Transactions (QuickTX) - transactions sent with the use of this feature can be received and deemed fully confirmed in a matter of seconds. This is much faster than using traditional way which can take up to 2.25 minutes to achieve one confirmation. In contrast, Bitcoin takes about 10 minutes to confirm a payment once; this makes DMD Diamond 4x faster.
Transactions Mixing (MixTX) - this service provides enhanced anonymity by allowing properly prepared coin piles, through the build in Diamond Wallet coin-mixer tool, to be sent making it much harder to trace the source address.
What is required to run a masternode?
There are a few prerequisites to run a Masternode. Firstly, one needs to be in possession of 10 000 DMD coins. Another requirement is to have a static IP address. Dedicated IP addresses are important so that other computers can easily and reliably connect to nodes. If a Diamond Masternode changes the address frequently it would be penalized by the network for being unreliable and would not get its fair share of network rewards. Most people do not have static IP addresses with their home broadband service that is why the easiest way is to host a remote (virtual) server that can provide you with one.
Stable.
To further deal with price volatility the Diamond Coin ecosystem has introduced two more key mechanisms. The first is the Diamond Multipool that allows participants with their own computer hardware to mine currencies with almost any algorithm and receive DMD in return. The second service Diamond Cloud Mining enables anyone to collectively mine BTC in the cloud and convert this into DMD payouts. The system has proven to be adaptive, sustainable and rewarding for its participants.
Fast.
Diamond network has been designed to be excellent for quick money transfers. Masternode powered QuickTX significantly reduces confirmation time while fast block times ensure unparalleled speed to conventional remittance and payment systems.
DIAMOND (DMD) OVERVIEW.
Coincapmarket ranking: 164.
Current coin Value: $6.41 (-8.24%).
Market Cap: $14,596,802.
24hr volume: $357,399.
Circulating Supply: 2,277,846 DMD .
Total Supply: 4,380,000 DMD.
Wallets.
Your Diamond Wallet is what allows you to transact with other users. It gives you complete and whole ownership of your Diamond balance and allows you to send and receive Diamonds. The wallet is installed on your computer.
Diamond Wallet does not require any installation as it is contained in one executable file. Simply run diamond-qt and the program will set up itself. Make sure you encrypt and regularly backup your wallet, using the built-in, easy-to-use wallet functions, to protect your money.
Here is the links to the wallet:
Exchanges.
Mining.
Diamond Multipool.
DMD cannot be mined directly as it now uses the environmentally friendly Proof-of-Stake technology. However, Diamond Multipool enables users with a specialised mining hardware to mine other cryptocurrencies that use a variety of mining algorithms (i.e. SHA256, Scrypt, X11, etc.). All payouts are automatically converted to DMD coins. It is one of the most cost effective ways of getting your hands of this precious digital gem.
Mining on the pool is through NiceHash or Yaamp.
Mining Field (US&EU).
0% Fee, Payout Fee applies, PROP, DDoS protection, IRC support.
CryptoPools (USA).
1% Fee, Payout Fee, PROP, MPOS with NOMP stratum, IRC support.
Cryptopia's MineShaft (NZ).
(no information on the pool fees, mechanics or limits).
danbi's pool.
1% Fee , PROP, stratum & pushpool.
[currencyprice currency1="DMD" currency2="usd,eur,btc"]
[currencygraph currency1="DMD" currency2="usd"]