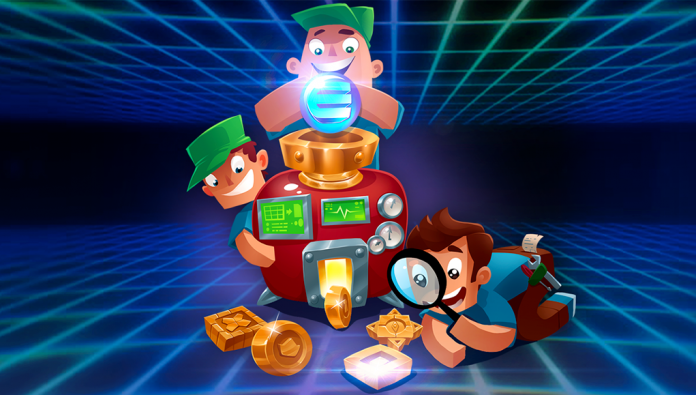 Enjin Coin is a cryptocurrency and virtual goods platform for gaming. It will provide gamers and content creators a new model of virtual ownership.
 SUMMARY.
Project name: Enjin Coin.
Token symbol: ENJ.
Website: ​ ​https://enjincoin.io/
Whitepaper: https://enjincoin.io/enjincoin_whitepaper.pdf
ICO Hard cap: ~50k ETH.
No of tokens being sold at ICO: 250 million tokens.
Percentage of total supply: 40%.
ICO start price: $0.0498 @ ENJIN.
ICO End price:$0.0996@ ENJIN.
Payment methods: Ethereum ("ETH").
Presale: Presale sold out! 38,800 ETH Raised.
Percentage of total supply: 40%.
White list: None.
ERC20 token:Yes.
Role of Token: Utility token.
Crowdsale date: Oct 3rd to 31st.
Token distribution date: Once the crowdsale has ended.
Twitter: Total 11578 followers, 1294 tweets.
Facebook: Total 50538 likes, 1294 posts.
Country of origin: Singapore.
Company Size: 11-50 employees.
Blockchain: Ethereum.
PROJECT OVERVIEW.
Enjin Coin is a smart contract platform that will be used to create, manage, distribute, and trade virtual goods. To make this possible, Enjin will develop a powerful framework of open-source software development kits (SDKs), wallets, game plugins, virtual item management apps and a payment gateway platform.
Enjin Coin's purpose is to provide gamers and content creators a new model of virtual ownership with a decentralized platform. Online gamers will be able to bring or trade their assets from game to game, community to community, growing their digital wallet with real value as they play. SDKs for multiple languages, wallets, and payment platforms will be available and completely open-source to make this all possible.
BACKGROUND.
Enjin is more than just Enjin Coin. The Enjin brand has been around for nine years. They are the largest gaming community creation and website building platform online (based in Singapore) with over 18.7 million gamers and hosting over 250,000 gaming communities. The platform reaches 60 million global views per month with millions of USD per month in virtual goods sales.
They have a groundbreaking visual layout system and framework that offers over 100 modules (forums, shops, etc) that can be placed and scaled on any website, while retaining a professional, unified look. They recently added social features like activity walls, notifications, and a mobile app for Android + iOS.
Enjin's ​millions ​of ​highly ​engaged ​users ​socialize ​and ​work ​together ​to ​create ​unique communities, ​game ​content, ​and ​virtual ​economies. By ​providing ​the ​tools ​they ​need through Enjin Coin, Enjin will empower ​these ​creators ​to ​monetize ​their ​content. Enjin Coin will be integrated across the entire Enjin CMS platform and over 250,000 existing gaming websites. This will be supported by a payment platform and wallets for its users.
FEATURES.
Continuity.
Most gamers don't stick to one game or even one platform. They may start the day playing on their PC and unwind at the end of the day playing on their PS4.But they don't have a persona that carries across those platforms. Enjin is hoping to provide continuity and preservation of inventory and assets across games and platforms since different assets can be exchanged across different games.
Reserve token for game items.
A typical game world contains many kinds of virtual items. Weapons, armor sets, and other objects can be earned by the player. Items become desirable in the free market because of their rarity, popularity, or the advantage they provide in gameplay. What happens if the game studio shuts down after running the game for a number of years? The market value and appeal of all the items from that game would collapse and all the players would be left holding useless tokens.
Enjin Coin will serve as a reserve token for game items. Each game item will have the ability to be "melted down" into Enjin Coins. Instead of putting items up for trade and waiting for a buyer, users can choose to liquidate through the contract. This smart contract is used to create every game item and it will store Enjin Coins for each game item in circulation.
Smart Wallets & Apps.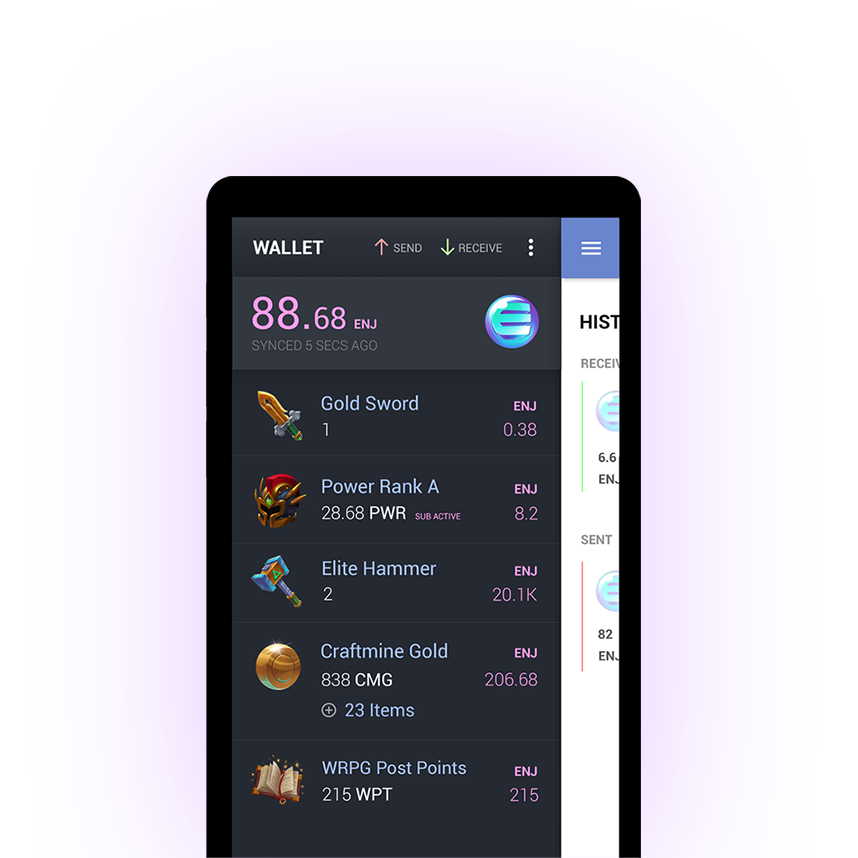 Enjin Wallets for mobile and PC streamlines user experience by linking with trusted games and websites. The wallet can receive transaction & subscription requests from trusted platforms to allow 1 click in-game purchases and trades.
BENEFITS.
For gamers. 
Gaming with true item ownership.
Enjin Coin benefits gamers by giving them full ownership over all their items. Instead of the items only being available inside one game, they can be traded outside of the game, displayed on websites, or used across multiple game servers. Players will be able to purchase items or even start subscriptions, seamlessly inside the game. There's a full suite of smart contracts built around gaming, like the TopList voting system, and the Escrow system for secure item trades.
A solution to fraud and high fees.
For every legitimate virtual item purchase, 7.5 items are lost to fraud. Assets stored and managed online can be open to manipulation or chargebacks. Merchants must deal with extra burdens, and scammers damage the game's reputation. Enjin Coin minted tokens will create trust and security with minimal transaction fees, solving the problems game producers and content creators are faced with today.
Minecraft Server Communities.
Incentivize players.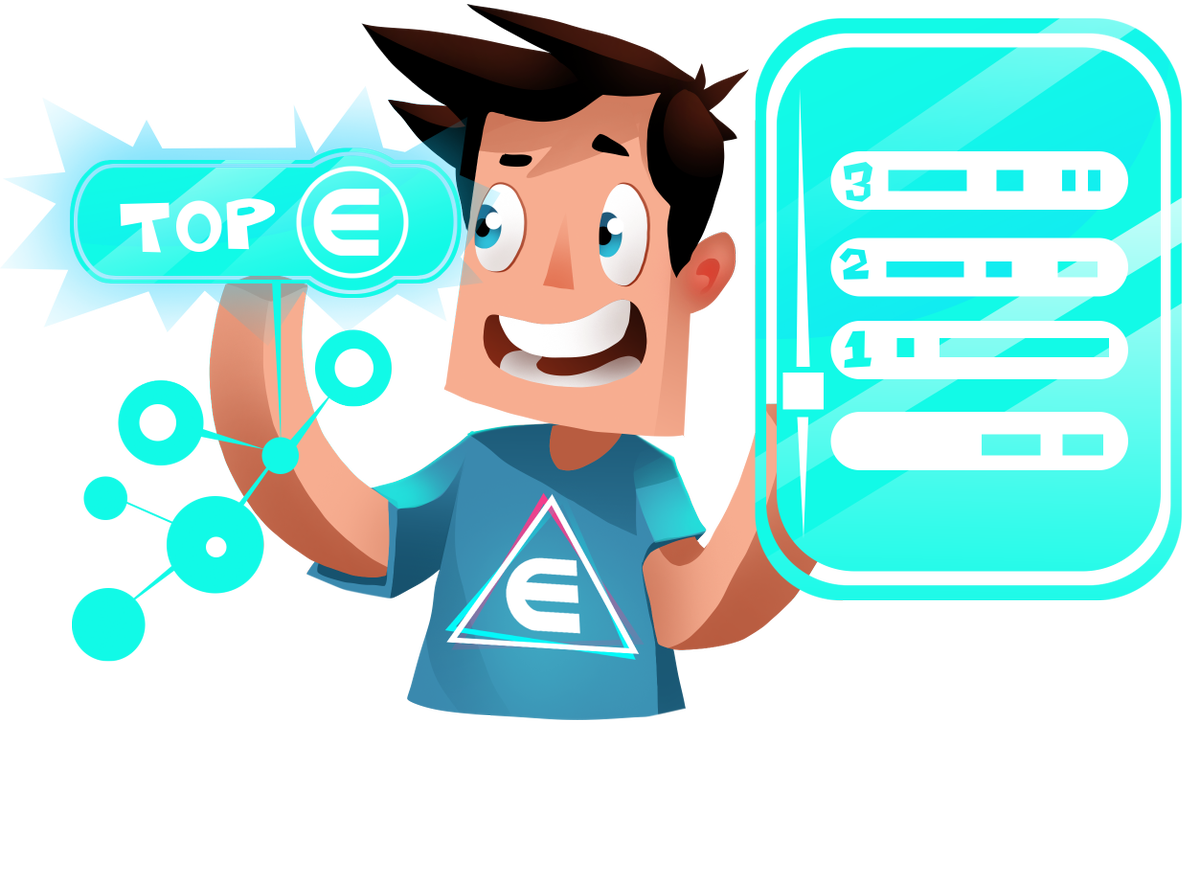 One of the most successful ways to convince players to stick around and play on a server is to offer them incentives and reward them for participating in the community and accomplishing tasks in-game. By creating custom items backed by Enjin Coin you will be able to reward your players with real value that they can take anywhere. Web, Mobile App, and API-based user interfaces to the Mint smart contract will be developed to make asset creation and management an effortless process.
For developers.
Virtual ownership.
Injin gives game developers and content creators a new model of virtual ownership. You can mint unique in-game items, currencies, and virtual tokens using Enjin Coins as the parent currency. These assets can be converted back into ENJ anytime.
Apps for Content Creators.
Web, Mobile, and API-based user interfaces to the Mint smart contract will be developed to make virtual asset creation and administration a simple process.
Decentralized Payment Gateway.
Setup a custom Payment Gateway and accept ENJ and all Custom Coins using the open-source SDK tools.
WHAT'S UNDER THE HOOD?
Blockchain leverage.
There exists many long time issues with virtual goods. For example, in-game items you've paid for that are licensed to you instead of owned by you or not having a secure, reliable third party system when trading out of game or even the need to trade out of game at all.
Enjin coin will allow trustless ownership of game items on the Ethereum blockchain. Enjin is doing this by letting game developers turn ENJ tokens into game assets, and then giving all players holders the ability liquidate their items back to the base ENJ currency anytime.
Bancor automated "robotic" exchange.
All game items created on the Enjin Coin Platform will have the ability to tie into the Bancor network. Newly minted game items will be created as Smart Tokens. Smart tokens are compatible with the ERC20 standard and can be used by any software that supports this standard, such as Ethereum wallets. However, smart tokens offer additional functionality not available to regular tokens. Each smart token holds a reserve balance in one or more other ERC20 tokens, thereby enabling anyone to exchange between itself and any of its reserve token(s).
Presumably, ENJ, along with BNT and ETH, will act as base currencies backing the tokens issued within the Enjin platform. While these reserve tokens, ENJ for example, represent the "material cost", the true value of game items is defined by their gameplay properties inside the game.
So, the items will be priced based on the Bancor formula, if the market value of a smart token increases i.e it's purchased more with ENJ, the Reserve Balance composed of ENJ increases and the Volume of the token decreases, resulting in an increase in the token's Price. Conversely, buying ENJ with the token reduces the Reserve Balance and increases the token Volume, resulting in a decrease in the token's Price. This reflects a more realistic market dynamic.
As Bancor smart tokens, items can be traded with the full representation of their actual intrinsic value and user demand. Bancor exchanges are like automated robots on the Ethereum blockchain. They give gamers the ability to liquidate or trade items at the time of their choosing, even if willing human buyers aren't immediately available for rare end-tail items. This is especially useful for independent games or newer titles where the player-base is still just growing. The automation of markets across any type of game is unprecedented in the gaming world.
Scalability.
Fast transactions in-game are very important. Yet, the Ethereum network has occasionally suffered from slow transaction times. Transaction requests on the platform will be sent via push notifications and will appear immediately. The creators are implementing off-chain messages to close the gaps caused by Ethereum network slowdowns and block times. The upcoming Ethereum technology upgrades, such as PoS Casper (Proof-of-Stake), aim to improve block times to three seconds and the Raiden upgrade demonstrated off-chain transfers of ERC-20 tokens.
INTENDED USE CASES.
Communities will be able to:
Gamify websites (where users will get tokens for making something valuable for the community).
Strengthen user participation (where users will be rewarded for the active participation on the forums and games).
Automate rewards.
Content creators will be able to create:
Token that can represent commodity (swords, shields, well, you know).
Management of virtual goods (users' wallets will have real market value).
Subscription to in-game or forum services.
Gamers will be able to:
Buy & sell items for real value (imagine being able to sell something and immediately get the money on your bank account).
Trade between gaming items.
Earn ENJ for playing games.
Own valuable currency.
ROADMAP.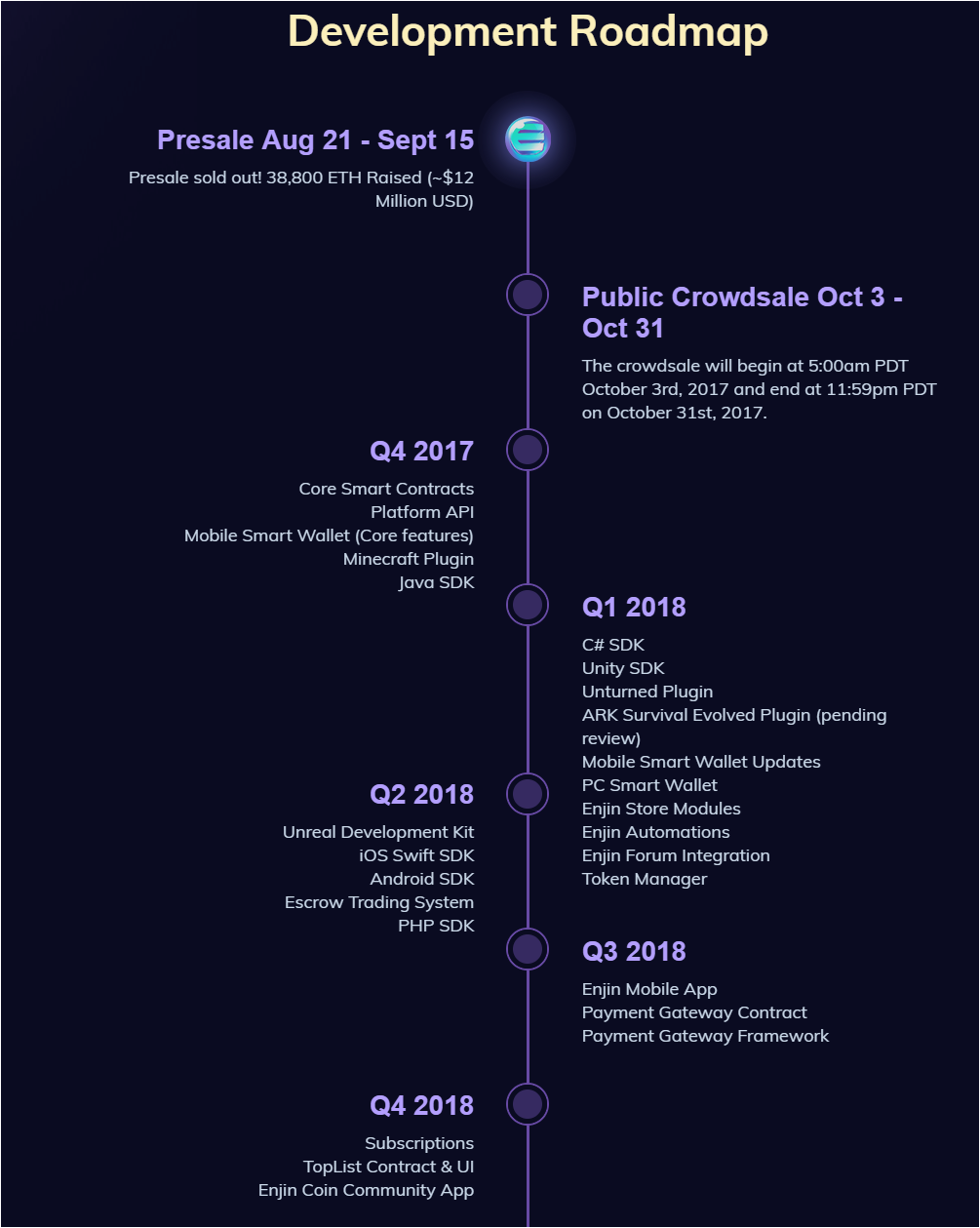 At the start Enjin Coin are releasing two plugins for very popular games with virtual item economies:
- A plugin for Minecraft (for all 3 platforms: Spigot, Sponge, Forge). They are the largest website platform for Minecraft servers and thousands of servers use our existing plugin for virtual item sales daily.
- A plugin for Unturned (Rocketmod). This is a rising, popular game and people are already making Enjin shop plugins for it. They are in touch with the developers of Rocketmod and are very excited to develop Enjin Coin integration. This will also work with 2+ upcoming games that Rocketmod plans to support.
The Enjin platform currently processes over $1 million in virtual item sales per month across all games and communities. Integrating with the above 2 games will bring instant adoption to the currency among thousands of active servers. The strategy of beginning with game plugins means they can integrate with some very popular mainstream games out the door, and meanwhile pursue further partnerships.
Enjin are also considering a new type of decentralized DKP system that can support the following games: World of Warcraft, Aion, Age of Conan, Everquest 1+2, EVE Online, Final Fantasy XIV, Guild Wars 2, LOTRO, Rift, Star Wars: The Old Republic, and Tera. They are still in the concept/planning stages for this, but it would use the Enjin Coin features and tie into Enjin's DKP module which could be updated for Enjin Coin and potentially open-sourced in the future.
HOW ADVANCED IS THE PROJECT?
Presale is over.
No working prototope.
GITHUB.
Repository: Enjin Coin Smart Contracts .
Starred by:10.
Releases:0.
Contributors: 2.
Commits: 5.
Forks:3.
Watch: 8.
Branch:1.
Commit activity: 26 days.
ENJIN COIN TOKEN.
An ERC-20 token supported by a powerful framework of open-source smart contracts and software development kits (SDKs). Use cases for the Enjin Coin:
Promotion on Enjin platform, perhaps within games there.
Payment gateway with almost no cost for usage.
Donation and reward setups for players and customers.
Automated payments.
Value of ENJ.
The profit generation comes from the appreciation of the ENJ tokens due to the active usage of the platform:
ENJ investors/token holders will have an opportunity to trade with each other outside of the game environment, and even trade and establish value across multiple different games.
Enjin will be developing a marketplace, wish-lists, and auction features, directly inside of the Enjin social network and Activity Feed system to facilitate P2P trading.
Actual usage and success of the platform will create strong demand of ENJ tokens. It will ensure the lucrative growth of ENJ capitalization
ENJ platform will be open source, so other games/platforms will be able to implement ENJ.
Token sale.
Here is a guide on how to buy the tokens.
Token distribution.
Only 1 Billion ENJ tokens.
40% Presale (Hard cap is $12 Million).
40% Public Sale (Hard cap ~50k ETH).
10% Team and Advisors. Team tokens are locked for the first 6 months, and will be vested over a period of 24 months total. Team members will be transferred 25% of their tokens after 6 months, and then 12.5% every 3 months afterward. The team list may be updated during the 24 month vesting period. Advisor tokens are locked for 2 months and distributed fully.
10% Marketing. Any unsold tokens are locked for 6 months and will go into the Marketing and Partnership pool.
Use of Crowdsale Proceeds.
50%: Development.
30%: Marketing and growth.
5%: Security.
5%: Legal.
5%: Hosting and infrastructure.
5%: Contingency.
Exchanges.
Enjin is currently in talks with multiple cryptocurrency exchanges to allow trading of ENJ and other currencies. Tidex, Coinomi and Bancor have both been confirmed and will offer liquidity to Enjin Coin traders.
PROS.
Enjin Coin comes with a massive community base to springboard adoption and the brand is already well known and respected by both top tier game developers and millions of gamers that already run their guild sites through them.
The team is also experienced and eager to transition from the mature Enjin business into the next challenge with Enjin Coin.
There are currently over 1,300,000 gamers who have registered to adopt ENJ.
It has the most ambitious roadmap. Several features will be available by end of this year such as Core Smart Contracts, Platform API, Mobile Smart Wallet (Core features),Minecraft Plugin and Java SDK. The rest will be available next year.
They are building on Bancor, which is steadily gaining momentum in terms of value, as people begin to realize its potential and things are built on its protocol.
The variety of developer toolkits will likely add up to actual integration, especially if some of the reserved tokens are used to incentivize user demand through bounty campaigns. In order to make the coin more popular, games and communities can mint unique in-game items, currencies, and privilege tokens using ENJ as the parent currency.
Presale was sold out.
Enjin wants to take part in the virtual goods market which is projected to reach $17bln by 2020.
CONS.
Presale distribution structure: Those purchasing between $15,000 to $50,000 will receive 15 percent bonus in tokens. Those buying $2,000,000 USD and over receive a 50% bonus.
Enjin is an already established CMS platform and EnjinCoin will only be an additional payment option in the platform.
Reliance on 3rd parties games.
Ethereum blockchain which is quite clogged at the moment and barely usable due to the high demand (this disadvantage will hopefully disappear in the near future when the scalability solutions will be implemented).
TEAM.
Enjin's team has proven capabilities and experience in software engineering, blockchain technologies, marketing and business operations.
Pat LaBine is the Gaming Tech Advisor. Pat brings over 17 years of engineering and gaming production experience to the team. He has served as producer and technical director for acclaimed games such as Mass Effect, Anthem, Dragon Age and Jade Empire. He has also worked on award winning mobile games and apps for iOS and Android with over 10 shipped projects, including one #1 Paid game and one Top 10 Free Game.
Anthony Di Iorio, founder of Jaxx and Ethereum, also joined the Board of Advisors in in addition to making an investment.
PARTNERS.
Their partners are Bancor, Jaxx, Prymtech, integrated engineering blockchain consortium, vanbex group and Enjin.
COMPETITORS.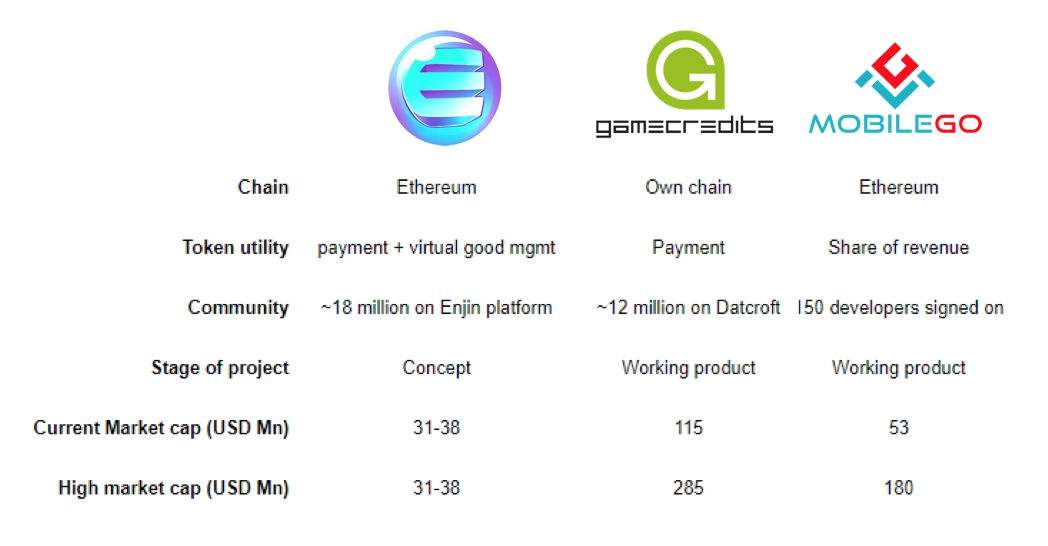 Other companies within the virtual goods space like Steam, and Mobile Go could add up to a mighty, unforeseen force of competition. Mobilego is concentrated on mobile games virtual goods; it's currently trading at $0.562973 since its April ICO.