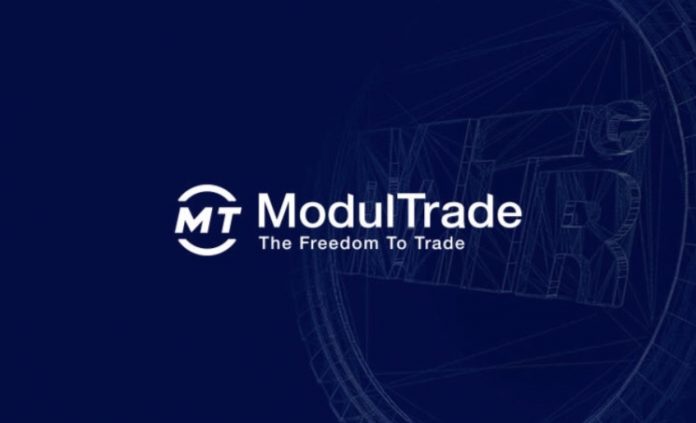 ModulTrade ICO Overview.
Presale Date: Ends November 27th 2017.
Public sale Date: 28th November 2017 to 27th January 2018
ModulTrade is a smart-contract blockchain-based ecosystem where Micro SMEs can meet commit and execute trade globally, easily, trustfully and efficiently. The platform offers a plug-in Button for Merchants and an Application for Customers which provides credit to start the trade, smart-contracts to secure payment & delivery and end-to-end trade services to execute the trade (payments in fiat & cryptocurrencies, logistics, insurance, etc.) MTP also offers a marketplace to reduce search efforts, facilitate matching, and make it easier for the different groups of economic agents to exchange value between them.
Problems being solved:
Lack of trust remains a significant problem for MSMEs and prevents them from being active players in the global trade network. I.e. there is a lack of trust on whether the buyer will pay upon receiving goods from the seller.
Traditionally, the trade finance business has targeted exporters and importers of a certain size, with only mid-range to larger players being able to afford trade finance services. Letters of Credits (LCs) for instance are associated with high costs for both the bank and clients.
From a bank's point of view, the key customers, exporters, and importers often suffer from a poor end-to-end customer experience. Not only does the issuance of LC-backed trade finance transactions require high coordination efforts among exporters, importers, and issuing and advising banks, often represented by individual legal counsel, the settlement of the transaction follows overly complicated and manual processes, long waiting times with low transparency, and a relatively high residual settlement uncertainty. For example, importers still face the delivery risk of fraudulent shipments, even if the transaction is backed by an LC, and have to proactively and manually track all stages of the agreed delivery terms.
How it works.
Buyer and Seller agrees on the trade and create a Smart-contract in the MTP.
MTP blocks money on the Buyers account to guarantee the payment upon delivery
MTP instructs bank to reserve funds on the Buyer account/Credit card; OR
MTP reserves funds in cryptocurrency within the smart-contract.
The Seller sends goods via logistic company and submits Tracking number to MTP
Upon Buyers receipt of goods, (Tracking delivery matches the address of the Buyer indicated in the Smart-contract) MTP instructs release of payment to the seller.
Participants.
Users.
Global presence through WEB — every SME can become global by placing its products at ModulTrade enabled marketplaces.
Instrument for trade which provides trust. Seller has guarantee of payment if proper goods are delivered to the Buyer. Buyer pays only if he receives proper goods.
Trade finance line in MTRc. ModulTrade will open 0% reputation-based credit lines in MTRc for all new users for financing trade transactions in MVE.
New payment option — MTRc functionality does not require to have a bank account to start exchanging value.
Easy access to trade related services — (logistics will be among the first ones) through connecting to integrated in MVE 3rd party service providers platform (DHL, UPS, …)
Third-party trade related service providers (e.g. supply chain providers, lawyers, tax officers, financial institutions and fintechs, etc.). These providers meet on modultrade open platform to contribute to the trade service of counterparties.
Third-party trade software developers, delivering trade solutions on top of MTRc functionality.
MTRc token uses.
Roadmap.
Review/ICO Scoring Metrics.
Concept.
Industry: Trade Finance/Logistics
Similar projects: 300Cubits, IMMLA, Bitbay, IBM, Monetha
Existing companies: ebay, Alibaba, Alipay, Aliexpress, Amazon
Level of competition: High
How is it different from other projects in the space?
ModulTrade solves all SMEs trade-related hassles (ModulTrade and 3rd party provides financing, payments, logistics, insurance, etc.).
It's focused on MSMEs.
Difference scale: High
Securities Token: No
Buyback and burn: No
Market dynamics:
The global e-Commerce market is worth US$7.7 trillion according to Statista.com (https://www.statista.com/study/44442/statista-report-b2b-e-commerce/ )
6.7 Tn by 2020 for the global B2B E-commerce market according to frost & Sullivan (http://www.frost.com/ma4e)
The BIS Committee on the Global Financial System estimates that trade finance directly supports about one-third of global trade and that that, globally, a flow of some US$6.5–8 trillion of bank-intermediated trade finance was provided during 2011 (http://www.bis.org/publ/cgfs50.pdf)
There are 400 mln MSMEs globally which execute trade in their day to day activity
LCs facilitate 47% of global trade finance (circa $2.8 trillion per year worldwide).
Use cases: Logistics, trade financing, tax and bookkeeping, insurance, custom brokerage, supply chain digital tracking, a blockchain-based Digital Thread for Additive Manufacturing (DTAM) underpinning all the transactions occurring throughout the digital and physical life cycle for additive manufacturing, and trade finance solutions based on IoT-generated data.
Sources of revenue: Trade fees; usage fees for third parties' solutions developed on the platform.
Regulatory risks: Not a securities token; company already incorporated in UK; Taxation and import laws that differ per country is an issue related to the scope of the project
Use of fiat: Yes
Geographical coverage: UK, Italy, Germany, 3 Asian countries, China, US
Team.
Members with past experience in this industry: 5
Members who are past company CEOs/Founders:  1
Members with technical experience: 3
Members with previous blockchain experience or experience building an open source community or platform on a large scale: 1
Advisors from other blockchain projects: 3
Advisors with past experience in this industry: 5
Advisors with technical experience: 0
Advisors who are company CEOs/Founders: 3
Advisors with previous blockchain experience or experience building an open source community or platform on a large scale: 2
Popular advisors: Bernard Lietaer
MVP.
Any previous activity related to the project: None
Partners: Bancor, DHL, Delovie Linii.
VC funding: N/A
Actual alpha, beta etc. available on website: Yes.
MVP currently operational: Yes
Token expected usage date: 2018
Working product: 2017
When Fiat currency can be used: 2018
Roadmap ends: 2019
Blockchain leverages.
GitHub presence: High
Smart contracts:  These replicate banks' trade finance instruments (Letter of Credit and Guarantee) and to offer MVE participants this service in a trustful and cost-effective way while also connecting them to other services like logistic and insurance;
Tokenization: None
Removal of third parties: MTP (ModulTrade Platform) will interact with customers' accounts within secure processes without banking intermediaries thus increasing efficiency and lowering transactions costs.
Any centralization aspect:  N/A
Scalability: It's currently based on Ethereum, though they claim it can support the platform and that they could migrate to another blockchain incase issues arise.
Transparency: Use of a distributed ledger and network allows transparency, traceability and global footprint.
Costs: The cost of smart-contract execution on blockchain is 1% compared to 4-15% of the transaction amount charged by banks at the moment.
Database: N/A
Oracles: No
DAO: No
ICO Structure.
Popularity: High
Bitcoin talk pages: 57
Bitcoin talk interactiveness: High
Presale absent: No
Whitelist absent: Yes
Bonus for whales absent: Yes
Bonus for early participants absent: No
No Registration required: Registration is required
Token scarcity: 100M MTRc; Unsold token are burnt
Lock-up: Team member tokens locked up for 6 months, 12 months and 24 months.
Presale token percentage: 10%
Token price: $0.3
Presale Hard cap amount: $3M
Presale Soft cap amount: N/A
Presale progress: 40% with 5 days remaining.
Public sale token percentage: 20%
Token price: $0.32-$0.4.
Public sale hard cap amount: 11M
Public sale Soft cap amount: N/A
Public sale Progress: Not started yet.
Total ICO Hard cap: $12M
Total ICO Soft cap: $2M
ICO Timeframe 1 month:
No ICO extensions: ICO not started yet
Minimum amount: None
Individual cap: None
Limitations: US non-accredited investors.
Smart contracts already audited: N/A
Exchanges: N/A
Escrow: N/A
Multisig wallet: Yes
Get the overall score of this ICO as well as other ICOs here