STK enables real time point of sale (POS) transactions directly from users' private cryptocurrency wallets by allowing real-time exchange of crypto to fiat.
Presale Date:  30th October to 10th December 2017.
Public sale Date: 10th December to 14th January 2017.
STK will enable real time point of sale (POS) transactions directly from users' private cryptocurrency wallets. To make instant payments at point of sale from a blockchain wallet requires real-time exchange of cryptocurrency into fiat. The STK token provides access to state channels which a) ensure there is sufficient cryptocurrency (i.e. Bitcoin, Ether) in the digital wallet and b) users spending fiat at point of sale will complete the purchase from their cryptocurrency assets. STK automatically opens a state channel between each user and STK's own wallet. STK tokens fund the transaction, much like gas funds Ethereum transactions. The first implementation will be with STACK's digital wallet. STK tokens will be implemented on the public Ethereum blockchain and adhere to the ERC20 protocol.
Problems being solved.
Because very few merchants accept cryptocurrencies at point of sale or online, consumers must exchange cryptocurrencies into their local currency to make everyday purchases. Through any existing exchanges this can be time consuming, and comes with sizeable fees.
Though some companies have made products that enable retailers to accept Bitcoin payments, they are currently available at only a tiny number of locations.
At present, the confirmation time for Bitcoin transactions averages 10 minutest, far too long for point of sale purchases. Ethereum transactions are faster, at an average time of 24 seconds, but even this is too slow for point of sale. Furthermore, neither the merchant nor the local currency provider are willing to wait the required amount of time for the transaction to be confirmed on the blockchain, which is critical to protecting both parties against fraud.
The current financial technology (FinTech) ecosystem is fragmented with different companies in isolated segments, providing singular solutions (i.e. lending marketplace, alternative finance, payments & international remittances and P2P money movement, and blockchain).
How it works.
Creating a State Channel: The user loads their STK token into the STACK mobile wallet, which authorizes the creation of a State Channel with the STK platform. Both the user's device and STACK keep a local copy of the current state of the channel. Creation of a state channel requires an on-chain operation.
Conducting Transactions and State Changes: When the user initiates a point of sale transaction using STACK, they receive a visual prompt in the STACK wallet showing the value of the transaction, similar to using traditional tap-to-pay mobile applications. Behind the scenes, the user authorizes a transaction to send the equivalent cryptocurrency to the STK platform.
Almost immediately, the STK platform receives the signed transaction, counter-signs and stores a copy of that new state off-chain. STK then authorizes its local currency account to pay the requested purchase through its global payment network rails on behalf of the user. Because the transaction occurs off-chain, there is virtually no delay except for a small amount of computation time and network latency.
Keeping Funds Ready: So long as the State Channel is open, there are no fees for conducting any number of transactions between the user and STK. Moreover, there is no fee for keeping the channel open.
Withdrawing Funds: If the user wants to retrieve all or part of their STK token in the channel that has not been sent to STK, they can do so by withdrawing their funds. The user signs and publishes a withdrawal request, which requires an on-chain operation. It is possible to make partial withdrawals, so the user is always secure in being able retrieve his or her ether while still keeping the channel open for future transactions with the STK network.
Closing: To close a State Channel, one of the parties signs and publishes a close request to the State Channel. This initiates a period during which either party can submit their most recent transactions, which determines the final state of the state channel.
Roadmap.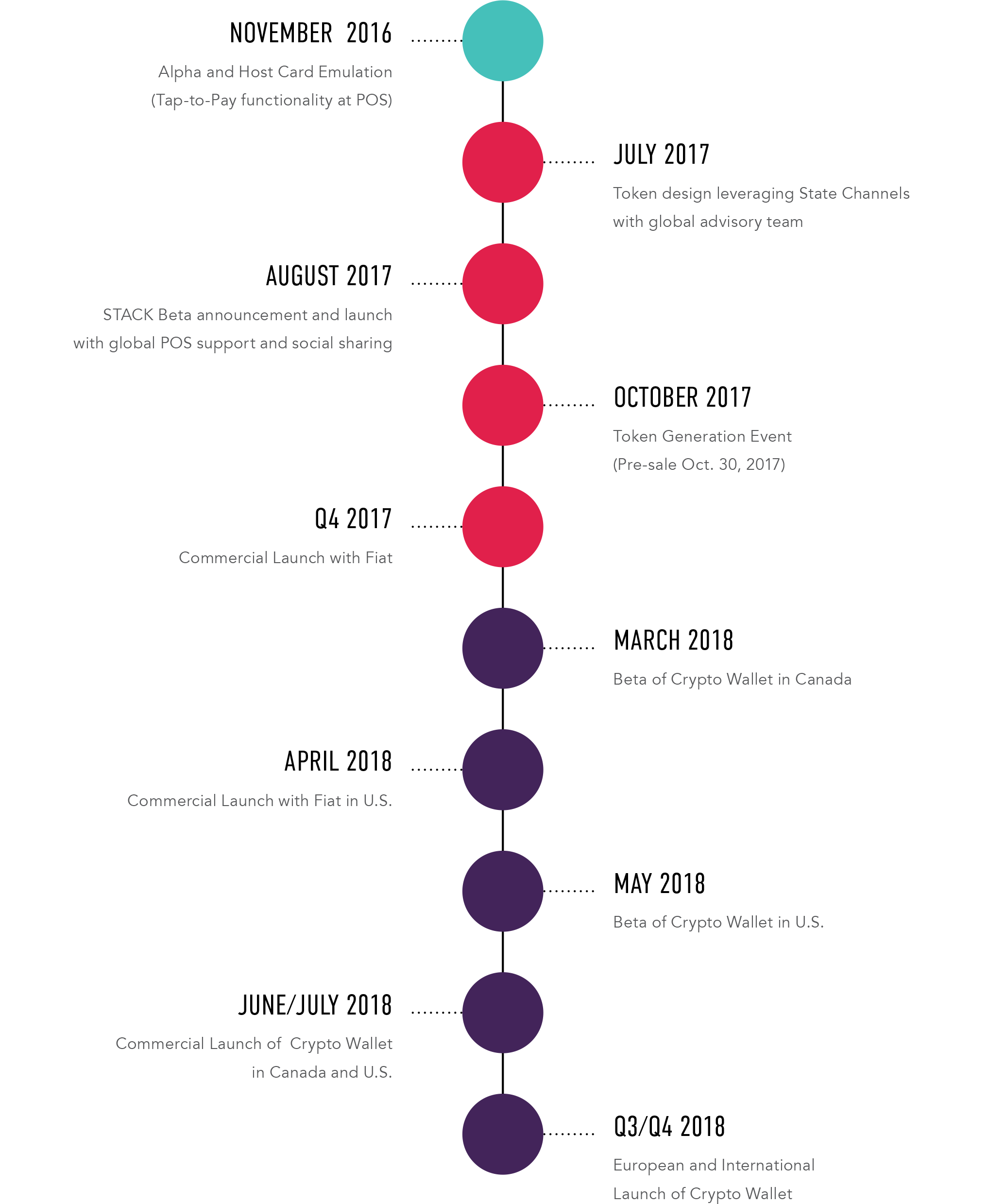 Review.
Concept.
Industry: Banking/Merchant payments
Similar projects: Utrust, Ten X, Metal, Polybius, Crypterium
How is it different from other projects in the space?
Many competitors are card-based only, Stack also have contactless functionality so you'll be able to make contactless crypto payments using just your mobile.
Team.
3. MVP.
Any previous activity related to the project: No
Partners: Mastercard
Actual alpha, beta etc. available on website: No
What is available: The STACK wallet is a working product that currently is in private beta with a waiting list of 20,000 people. The video of the app is available on YouTube.
ICO Structure.
Popularity: High
Whitelist present No:
Registration required: Yes
KYC required: No
Banned entities: Americans or Canadians
Smart contracts already audited: N/A
Exchanges: N/A
Escrow: N/A
Multisig wallet: N/A
Token scarcity: 500M
Securities Token: No
Buyback and burn: No
Coin staking: No
Lock-up: N/A
Unsold tokens burnt: Yes
Presale token percentage: 45%
Token price discount: 20%
Presale Hard cap amount: $1M
Presale Soft cap amount: N/A
Minimum amount: 20 ETH
Early participation bonus: N/A
Individual cap: 700 ETH
Public sale token percentage: 10%
Token price: $0.2
Public sale hard cap amount: N/A
Public sale Soft cap amount: N/A
Public sale Progress: Not started yet
Minimum amount: 0.07 ETH
Early participation bonus: 10% during first 48 hrs.
Individual cap: 700 ETH
Total ICO Token percentage: 55%
Total ICO Token price: $0.2
Total ICO Hard cap: $46.5M
Total ICO Soft cap: $1M
Soft cap reached so far? No
Any ICO extensions: Yes
Bonus for whales: Yes
Get the overall score of this ICO as well as other ICOs here